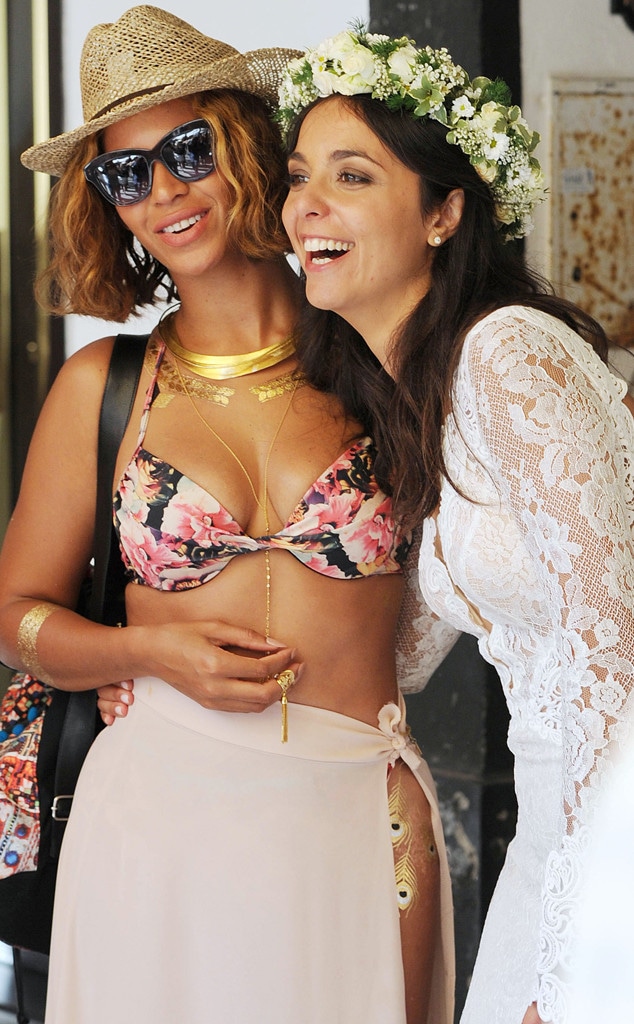 FameFlynet
Beyoncé and Jay Z: wedding crashers?! Apparently. 
The powerhouse couple, who are currently vacationing in Portofino, Italy, in celebration of the singer's 33rd birthday, opted to take a tour of a local church in the seaside town on Saturday where a wedding just happened to be going down.  
So, of course, since this is Queen Bey, the pop star kindly took a moment to take a pic with the blushing bride, who was beaming from ear to ear (and presumably forgetting all about her groom) as she posed side-by-side with the world-famous hitmaker. 
Talk about the luckiest bride in the world! 
According to an eyewitness, the couple dropped by church Divo Martino, where Bey stopped to congratulate the bride, 28-year-old Sara Carafa, and take a picture.
Carafa tells E! News of her encounter with the singer and her rapper hubby, which put the cherry on top of her special day. "I didn't know that Beyonce and Jay Z were there! It was a big surprise!" she recalls. "I only asked them if they would take a photo with me...Jay Z told me 'No, we are on vacation'...Bey was super nice! She told me 'Suuuureee! Come here!' And she gave me a hug! She told me that I was 'so beautiful' and my dress was gorgeous...And then she congratulated me... I love her!" 
The insider added to E! News that Bey and Jay have been enjoying their time in Italy with family and friends. "During the day they are spotted walking around the village, stopping in local stores, having lunch and taking boat rides." 
What's more, Jay Z has also been quite the gentleman during their PDA-packed getaway in honor of the "Crazy In Love" singer, which has seemingly put any speculation that their marriage is on the rocks to rest. 
Jay Z always has his arm around Beyoncé or they are holding hands, the source said, adding, "they definitely look like a very happy and loving couple."
Prior to their trip to Portofino, the superstar singer celebrated her special day by having a beach party in Corsica with rapper hubby, daughter Blue Ivy, mom Tina Knowles and more family and friends.
Then it was off to the seaside town where photographers have snapped the lovebirds strolling the streets arm-in-arm while flaunting their love for each other—in addition to a little impromptu wedding crashing! 
Hey, who needs professional wedding pics when you have a shot with Queen Bey?! 
—Reporting by Michelle Falls and Sara Kitnick