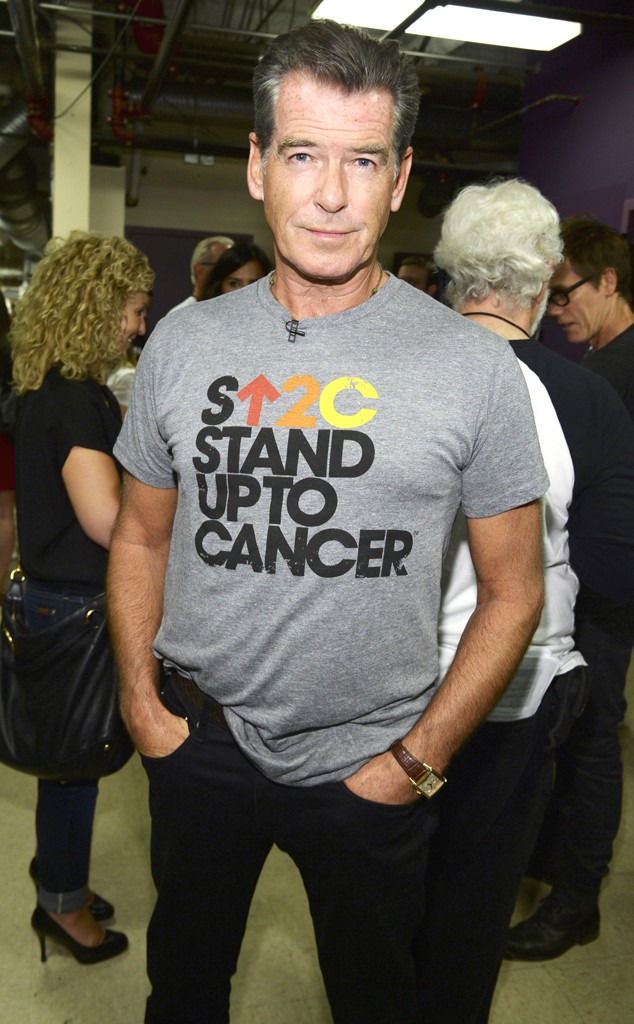 Kevin Mazur/American Broadcasting Companies Inc via WireImage
Pierce Brosnan took center stage tonight during the Stand Up to Cancer telecast and opened up about losing some of the women in his life to what he called an "insidious disease."
Following a true story of an ovarian cancer survivor, the actor began telling his unfortunate experience of having to say goodbye to first wife Cassandra Harris and daughter Charlotte Brosnan too soon.
"To watch someone you love have his or her life eaten away bit by bit by this insidious disease, that part of your sorrow becomes an indelible part of your psyche. I held the generous, strong, beautiful hand of my first wife Cassie as ovarian cancer took her life much too soon. Just last year, I held the hand of my funny, wonderful daughter Charlotte before she, too, died from this wretched inherited disease," he said.
"So, as a man who's watched the women he loves so much struggle with great pain, I rejoice in Beverly's story. She is alive. She is standing tall and strong. She is caring for her loving family and working in her art gallery. She is thriving. And we want her results to be the same results for every woman who has been diagnosed."
He continued by making a wonderful announcement that stated Stand Up to Cancer will be putting together an ovarian cancer dream team.
"And tonight, it is my honor to announce Stand Up to Cancer's new effort to do just that. Thanks to our collaboration with the Ovarian Cancer Research Fund, the Ovarian Cancer National Alliance and the National Ovarian Cancer Coalition, we're launching our first ovarian cancer dream team. So, please call us now, give for the women you love and miss. I'm giving for Cassie, Charlotte, Margot and Norma. Let's build that future where we hold our loved ones' hands, watch them grow old as it should be after a long life fully lived."