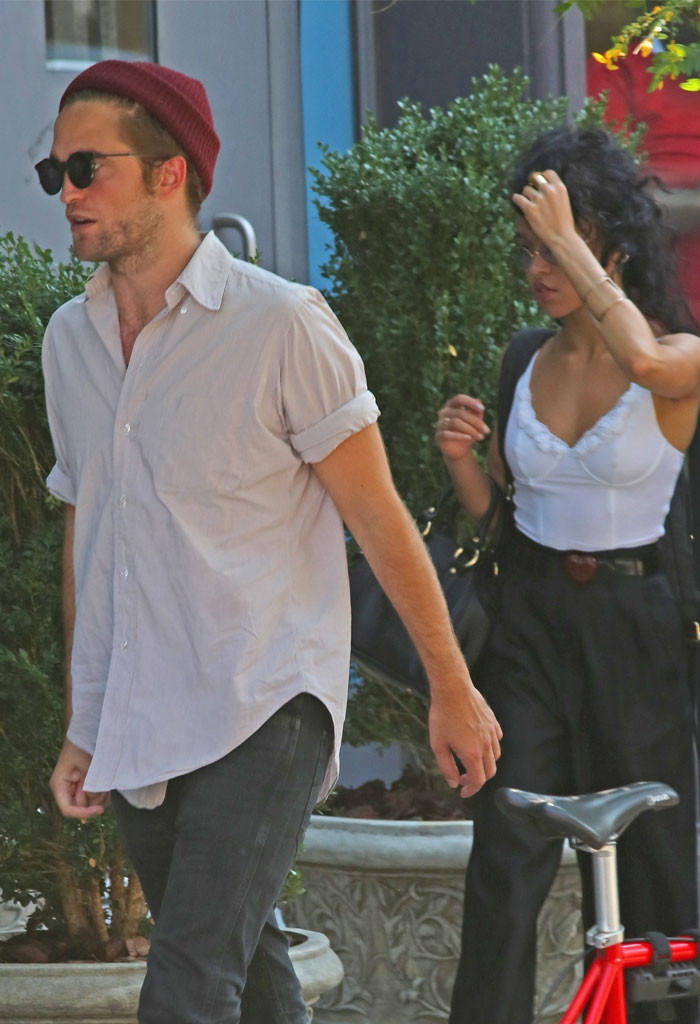 Lenny Abbot / Splash News
Robert Pattinson has a new leading lady in his life.
The Twilight actor is currently spending a lot of time with British singer FKA Twigs (whose real name is Tahliah Barnett) after a mutual friend introduced the two.
E! News initially learned that the two are "not quite" in a relationship, but friends definitely thought that she is his type and that things could go from friendly to romantic in a flash. And they were right, because shortly after, sources told us that the two were "officially an item." So with this new romance blossoming between the two, it's only right that we get to know FKA Twigs a little better, right?
That's what we thought.
1. Barnett's Background: FKA Twigs was born January 16, 1988. The 26-year-old half-Jamaican, half-Spanish beauty grew up in the South of London and was the only mixed girl at her Catholic school. Barnett was raised by her mother and stepfather, and did not meet her father, a jazz dancer, until she was 18.
2. FKA Twigs Is Born: The singer was nicknamed "twigs" because of the way her joints crack, and when it came to coming up with a stage name she decided to add the acronym FKA ("Formerly Known As") to her moniker because American pop duo The Twigs already took the name. But the young star made sure to let fans know that FKA Twigs is not an alter ego or character.
"i want to clarify that twigs is not a character that ive created, twigs and tahliah are one and the same. 1 girl, 1 personality, 2 names," she tweeted.
3. Music Is Coming: FKA Twigs' debut album, LP1, was released last month and is getting rave reviews. "the last two years have been the most testing of my entire life. but the most special thing has come from it. LP1 my baby. from me to youtweeted.
4. The Rhythm Was Out to Get Her: Along with singing, FKA Twigs has a long background in dancing. In fact, she's appeared in videos for pop stars like Kylie Minogue, Taio Cruz, Ed Sheeran and Jessie J's "Do It Like A Dude" video. She continues to dance her heart out, and spends countless hours perfecting her choreography (which you can witness on her Instagram).
5. Her First Kiss Was Kinda Precious: For whatever reason, Barnett recalled her first kiss on Twitter a few months ago, and we can't help but chuckle a little at the tale. "My first kiss... 16 yrs old. At Fez Club. Riki Knight aka bubba lips wearing Burberry and dancing to Nelly - Dilema ft. Kelly Rowland," she wrote.
So cute.
6. Speaking of Cute...: Tahliah may have been one of the cutest little babies ever. Just look at her colorful throwback photo below, which she captioned, "tbt lil fka twiglet."