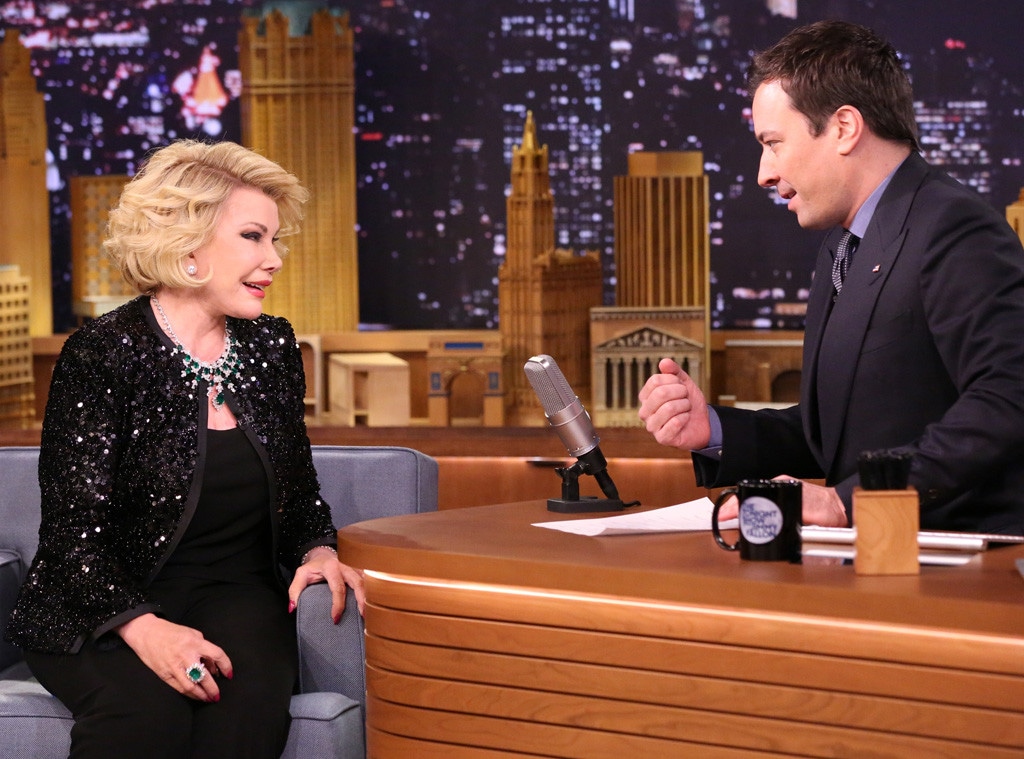 Nathaniel Chadwick/NBC
Today, the world lost a legend when Joan Rivers passed away at the age of 81, days after suffering from complications while undergoing a recent throat operation in New York City on Aug. 28.
The Fashion Police host and comedy trailblazer was loved by many and she led a truly impressive career for decades. Rivers got her start in 1965 when she first appeared on The Tonight Show with Johnny Carson. She stole the spotlight in that special way of hers, and the pair had such amazing chemistry that Rivers was brought back as the permanent guest host in 1983.
But in 1986, one of the biggest feuds in comedy was ignited when she began a rival late-night talk show, The Late Show. Carson was so angry that Rivers would go against him that he infamously banned her from The Tonight Show. She didn't return to late-night shows as a guest for 26 years, as Carson's successors as hosts Jay Leno and Conan O'Brien continued Carson's blacklisting of Rivers.
Watch the clip above to see Rivers explain the whole "Carson mess" and her ban from late-night shows in her own words from when she visited The Late Show With David Letterman back in 2010.
"Here's a woman, a real pioneer for other women looking for careers in stand-up comedy," Letterman said in a statement after Rivers' passing. "And talk about guts—she would come out here and sit in this chair and say some things that were unbelievable, just where you would have to swallow pretty hard…but it was hilarious…the force of her comedy was overpowering."
Back in March of this year, Rivers returned to The Tonight Show couch after more than two decades to appear on The Tonight Show Starring Jimmy Fallon. She previously made a short cameo during Jimmy Fallon's first week as a host, but this was her first time back as a guest for a full segment since the 1980s. And she did it in style.
Watch a clip of her highly anticipated return to The Tonight Show below:
Even 26 years later, she was still at the top of her game.
Check out one of Rivers' final appearances on The Tonight Show with Carson back in 1986, before their feud began, below:
Rivers was at her best when she was allowed to be herself, completely free and able to say whatever she wanted no matter what.
Exhibit A:Oone of her hilarious Tonight Show monologues from 1984. Watch a clip of her stand-up below:
When she premiered her own show, she welcomed tons of big stars for her first episode like Cher and Elton John.
Check out her debut episode below:
Do you have a favorite late-night appearance of Rivers'? Did you tune in when she was the guest host of The Tonight Show or the host of The Late Show?