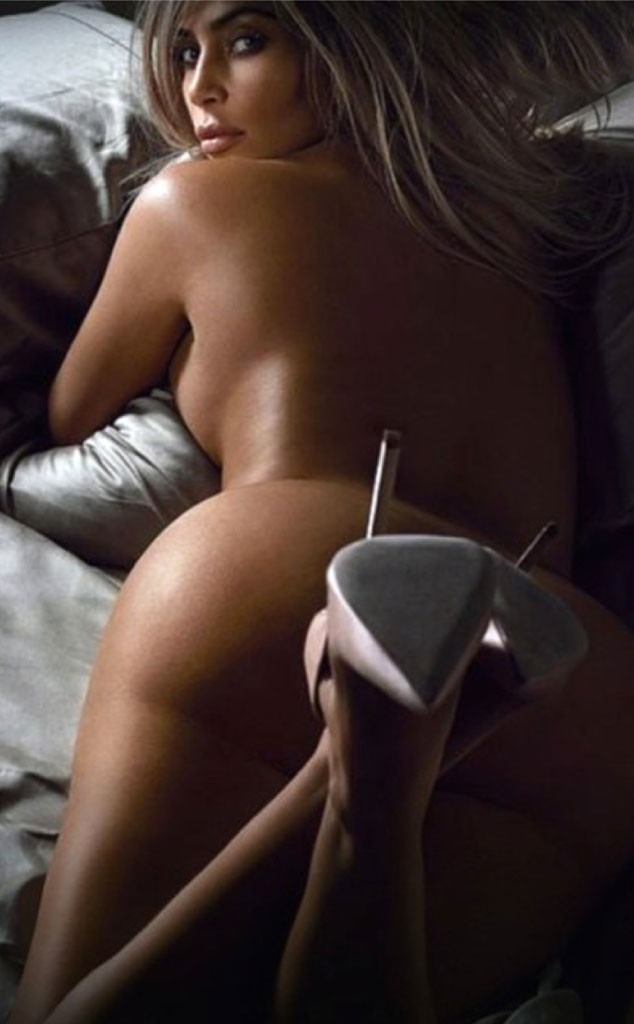 Courtesy: GQ, Kim Kardashian/Instagram
In case you hadn't downloaded your own copy of British GQ's October issue yet...
Cover girl Kim Kardashian has shared a sexy shot straight from one of her most revealing photo shoots ever!
In the pic, hashtagged simply "#GQ" on Instagram, a completely nude Kim (minus the stilettos) is lying on her stomach, her legs closer to the camera and bent behind her so that the crack of her bum is covered with her feet. She's giving the camera a smoldering stare over her left shoulder.
GQ released the issue digitally just hours after Kim was named the mag's Woman of the Year at their annual Men of the Year Awards gala last night in London.
No surprise: It was an instant viral hit.
Proud mama Kris Jenner was actually the first member of the family to share last night, Instagramming Kim's cover as soon as she could.
"Congratulations @kimkardashian on receiving @GQ's Woman of the Year Award and on your @BritishGQ cover!! So proud of you! #TomMunro photography #stunning," Kris gushed.
And even though Kim was at first mistakenly presented with the trophy intended for Pharrell last night, the evening was a resounding success, the 33-year-old wife and mom saying in her acceptance speech that hubby Kanye West makes her feel like the Woman of the Year every day.
To think, at the time we thought that Kim's edgy, revealing outfit—an Atsuko Kudo latex bodysuit and couture beaded skirt by Ralph & Russo—would be all there was to talk about afterward!
REX USA/Richard Young/Rex
The family fun continues this fall with the premiere of Kourtney & Khloé Take the Hamptons, only on E!