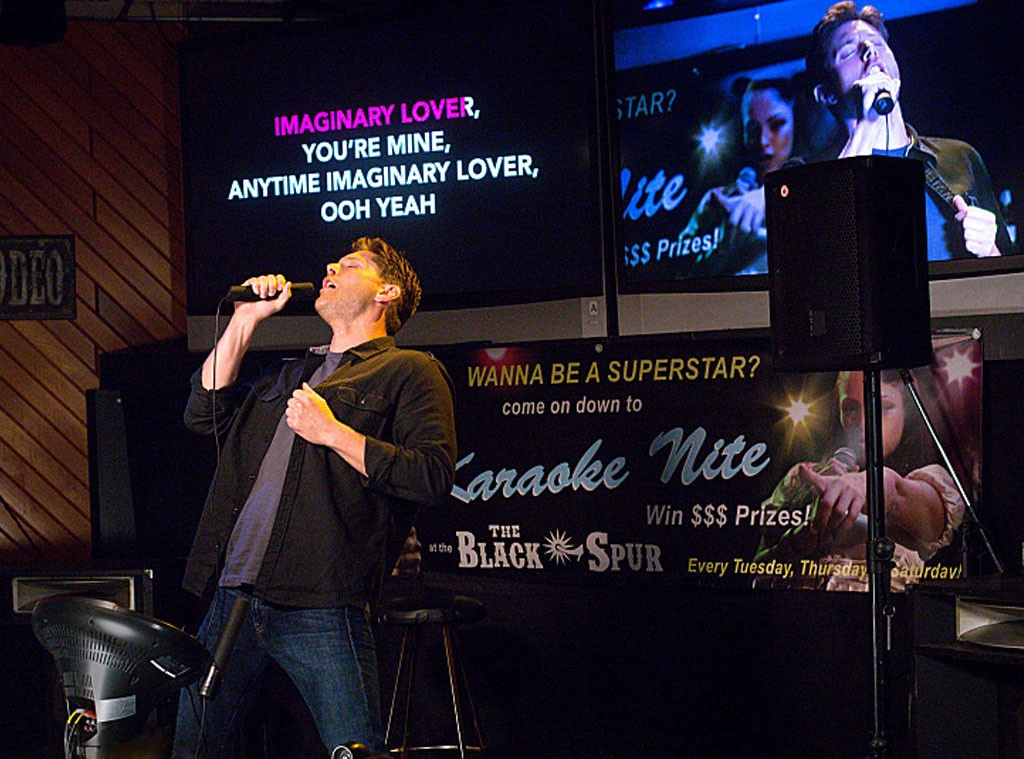 Liane Hentscher/The CW
We already knew that Supernatural was getting musical for its upcoming 200th episode, but did you know that the season 10 premiere is also going to be rocking?
Thanks to the CW releasing first look photos from Supernatural's first episode back (and making our day a million times more awesome, thanks C-Dubs!), it's clear that Demon Dean is going to be living his new, evil life to the fullest...by checking out a karaoke bar. Seriously, a karaoke bar.
And not only is the elder Winchester frequenting a karaoke bar (that still feels so weird to say), but he's also going to sing. Live. In front of an audience. And we're going to get to witness every amazing second of it!
And because we here at E! News are amazing detectives*, we've figured out which song Demon Dean is going to be performing. (*We googled the lyrics in the photo. You're welcome.) Listen to Atlanta Rhythm Section's 1978 song "Imaginary Lover" below and try to imagine how it's going to sound when Jensen Ackles puts his own spin on the tune:
But that's not the only clue we've got about what to expect in the season 10 premiere. In the second photo the network released, Demon Dean is enjoying Human Dean's favorite hobbies: drinking and flirting with bartenders. At least we know some things won't change along with Dean's supernatural status, huh?
Check out the pic below:
But Dean's not the only Winchester we've got a first look of in the pics. The final photo the CW released features Sam in a little bit more danger than we're comfortable with...at the hands of new character, Cole (played by Travis Aaron Wade).
Executive producer Jeremy Carver told E! News that Cole "is someone from Dean's past who is looking for Dean for reasons totally unrelated to what's going on with the demon/Mark of Cain story." Carver described this formidable new character as "a guy that has a terrific amount of hunting skills but he's not a hunter in our sense of the word. He has no idea that the monster world exists so imagine his surprise when he comes across the man he's been hunting and he is something other than human."
Check out Cole (and a tied-up Sam) below:
Um, what is going on with Sam's arm? Why is it in a sling? We know Jared Padalecki hurt his arm in real life, but we didn't think that would translate onscreen! Poor Sammy.
Does that mean Sam's going to have trouble styling his hair until it heals?!? We ask the important questions so you don't have to, people.
We'll get answers when Supernatural returns Tuesday, Oct. 7 at 9 p.m. on the CW.