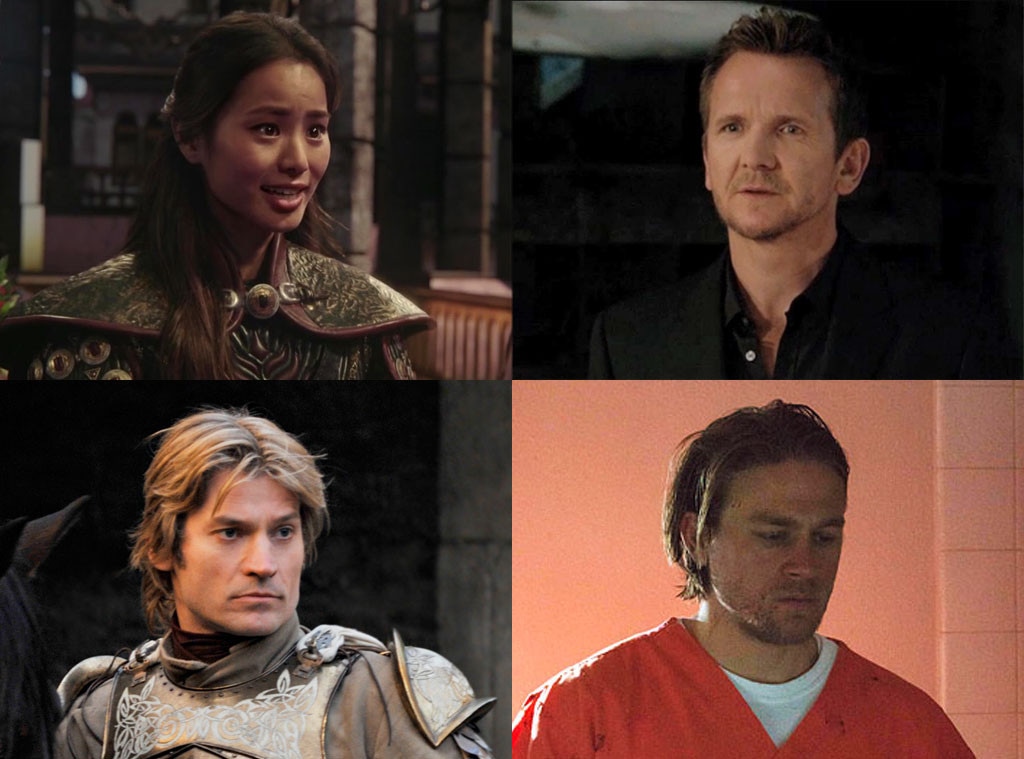 Happy Tuesday, all! You thought we had forgotten about you and this here Spoiler Chat, didn't you? But fear not: Your weekly serving of TV scoop is here, so you can cancel your plans of crying yourself to sleep in the fetal position tonight.
Want to know who's dying to get back on Once Upon a Time? What's up for the final season of Sons of Anarchy? Or some Game of Thrones morsels to tide you over? Read on!
Katherine: Please please tell me Mulan will be coming back to Once Upon a Time this season! I need to know what happened with her and Aurora.
From your lips…and Jamie Chung's to Adam Horowitz and Eddy Kitsis' ears…literally! "I personally reached out—I mean I'm not trying to pressure them or anything—but I was like, 'You guys, I'm available! I would really love to work with you again!" Chung told me. "I love them and I hope the feeling is mutual but I don't know! I just don't know if it fits into their overall story arc. As you know, they have Frozen on this season so that's a very big deal. I guess it all just depends where the story goes but I've offered my services. And I let them know that I was definitely available and would love to come back. I feel like her storyline was kind of left up in the air." Of course, I had to ask if she would be down for a love triangle between Mulan, Aurora and Elsa…which would probably be the greatest love triangle to ever hit TV. "That would be great!" Chung said. So let's make it happen, Adam and Eddy!
Killamstyles: THE MINDY PROJECT PLEASE
All caps? Dang, you must not be ignored! While Rhea Perlman is set to appear as Danny's mom this season (I'm still fangirling over this casting!), there are currently no plans to introduce Mindy's parents just yet. "I think eventually I would like to. Casting Indian sixty-somethings is tricky, of a comedy background. That's a little trickier," Mindy Kaling told me. "I would like to see them eventually, I've thought of people that would be good."
Tommy Klaus Warlow: The Originals-Will we learn in the upcoming flashback with Kol about why he used to hang around the witches?
While we don't have any news on the Kol front, we did chat with the vengeful Papa Original, Sebastian Roche, about his official return to the show now that Mikael's been brought back from the dead. "When you have Originals in the title and you're Papa Original, I knew that I was going to pop my head in eventually," Roche says with a laugh. "It's very exciting especially because the first five episodes are pretty intense. It's going to be quite epic. It's going to be an epic season, there's no question about it. We're in for quite a treat. It's going to be antagonistic, crazy, gothic, and we're in store for some amazing confrontations between Mikael and his sons."
Matthew: Sons of Anarchy's final season kicks off next week and I am counting down the minutes. Give us some scoop!
Be careful what you wish for as Jax's devastation over losing Tara will lead to a whole lot of bloodshed. "The body count is intense because Jax is in full vengeance mode," Kurt Sutter warns. "As a result of that, the gloves are off and those risks are being taken that perhaps may not have been taken in previous seasons, because the stakes are so high." As for Jax's mama and Tara's murderer (Oh, what a tangled web SOA weaves!), Gemma will be looking out for Juice after he saved her…and decided to keep her deadly secret. "She's very loyal to that," Katey Sagal told me. "She has selfish motivations—she wants him to be quiet—but she's going to make sure he's OK." After watching the premiere, we can safely tell you that'll be easier said than done.
Joe: I can't wait until next spring for more Game of Thrones, so scoop me now and help make the wait easier?
We feel you, Joe. Those 10-episode seasons just fly right by after a year of anticipation, don't they? Since we were dying for some scoop like you were, we went straight to the eldest Lannister son, Jaime, to find out how he's going to be coping with the consequences of freeing his brother Tyrion, since Tyrion ended up killing their father Tywin—while he was on the toilet, no less! Talk about a crappy situation (sorry, NOT MY BEST). "It wasn't something that his sister would want him to do and I think it's safe to say that he didn't expect in his wildest dreams that the consequences would be that his father would get killed," Nikolaj Coster-Waldau says. "I think even though his father was a very complicated man, he was still his father. Jaime loved him. So it's going to be a very complicated situation for Jaime when the show comes back." Game of Thrones, complicated? We never would have guessed!
Sarah: I'm still not over what went down in the Faking It season finale between Amy and Liam. Any scoop to tide me over until season 2 premieres?
Lucky for you, our resident Faking It expert (gut your mind out of the gutter!) Sydney Bucksbaum just spent a day on set getting all the scoop you could ever want on MTV's surprise hit comedy. You can pay her in champagne and diamonds. While she was talking with Faking It stars Katie Stevens and Rita Volk about what to expect from Karma and Amy in season 2 in light of Amy drunkenly sleeping with Liam after Karma's rejection, both lovely ladies assured you fans that this isn't going to be the end of the Karmy friendship. In fact, fans are going to see these two BFFs stronger than ever…until, that is, the truth about Amy and Liam inevitably comes to light. A secret that big can't stay secret forever!
Pascal Le Segretain/Getty Images; David Giesbrecht/CBS
Sharon: Taye Diggs is seriously going to amp up The Good Wife's hotness game. Mmmm, that's for sure. Will he be hopping into bed with anybody?
It's a little too early to tell, according to Taye himself. "I've only shot two episodes so that hasn't come up yet," Diggs told E! News at MetLife Stadium for the launch of Duracell's new NFL campaign, "but, you know, it's TV, so of course that's always a possibility."
As for his character, Diggs said Dean Levine-Wilkins is an "ambitious" "smart guy." And of course, "He looks good in a suit!" "He's going to be in a position where he's pulled between two firms." Something tells us Diane leaving for Florrick/Agos might not go off without a hitch.
Tanner: My dad and I love to watch Boardwalk Empire together. Now we need a new show to watch weekly, but first, tell me this: Does Nucky survive?
As if we would drop that bombshell. Half the fun is watching! We can tell you that you get to see little Nucky…that is a flashback to Nucky Thompson as a little kid in the season premiere. Plus, expect some Havana nights!
Ali: I watched Red Band Society on your recommendation and I am obsesssssssed. There wasn't a lot about the staff, though. Will that change?
Oh yes it will. You'll likely see those characters out of the hospital sooner rather than later. "Oh we're going to go off the rails before we leave, we're going to go off the rails while we're working!" Octavia Spencer told us. "Specifics, I can tell you things aren't as they seem with [Dave Annable's Dr. McAndrew], with me…with very many of the characters. I know there's going to be some sort of relationship that blossoms between myself and … there's going to be a love quadrangle, a love triangle…" Various love shapes? Yes, please! I could not be more on board with this show.
Carrie: Is Leo going to die on Chasing Life, or did he just decide to get the life-saving brain surgery?
Now that's the question of the season, isn't it?! We tried to grill Leo himself, Scott Michael Foster, on the fate of his crushworthy Chasing Life character in light of that crazy midseason finale cliffhanger, but unfortunately, he wasn't telling. (And believe us, we really tried.) "If I told you that, that would be giving away a big part of this cliffhanger!" Foster says with a laugh. "I guess we'll just have to see. I as a viewer would hope to see more Leo, but that's me as a viewer. Me as the actor knows whether or not we will." So…can we take that as a yes? Please?
Shannon: Kelli Giddish is coming back to The Good Wife for the first time in four years and I am freaking out that my worlds of Law & Order: SVU and The Good Wife are colliding. PLEASE tell me what she's doing there?
Well, we can't give too much away just yet, but we hear she has scenes with…Kalinda. Flail away.
Spoiler Chat is new every Tuesday on E! Online. BOOKMARK THIS PAGE so you can always find it!
Be sure to send in questions via Twitter or Facebook.
TWITTER: Follow @kristindsantos!

—Additional reporting by Tierney Bricker, Chris Harnick and Sydney Bucksbaum