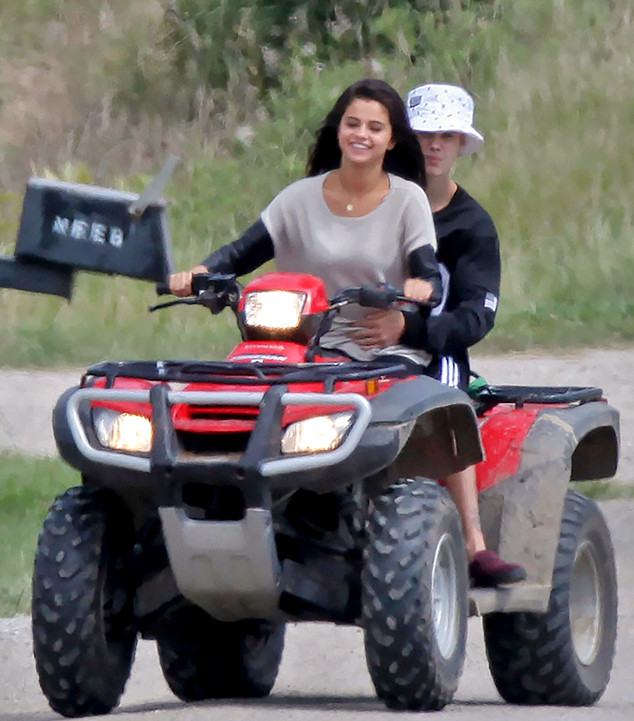 O'Neill/Todd G, PacificCoastNews
UPDATE: Ontario Provincial Police spokesman Kees Wijnands tells E! there were no reported injuries following the collision. He confirms there were two people on the ATV and Bieber was operating the ATV. He would not confirm if the second person was Gomez. There were two individuals in the minivan during the crash. The only person charged was Bieber. Police are not releasing Justin's mug shot or police report. Bieber does not have to appear in court on Sept. 29. His attorney can appear on his behalf. Bieber will have to appear if there is a trial.
________
Justin Bieber has had another run-in with the law.
The 20-year-old pop star was arrested this past Friday near his hometown in Ontario, Canada, after an afternoon of ATV riding ended in a supposed brawl.
According to a release from the Ontario Provincial Police, "On Friday August 29, 2014 shortly before 3 p.m. Perth County Ontario Provincial Police (OPP) officers responded to a collision between a minivan and an All Terrain Vehicle (ATV) on Line 40 east of Road 106. Investigation revealed that after colliding, the driver of the ATV and an occupant of the minivan engaged in a physical altercation. Justin Bieber (20) of Calabasas, California U.S.A., has been charged with 'dangerous driving', and 'assault,' contrary to the Criminal Code of Canada.
"He was released on a Promise to Appear and is scheduled to attend at the Ontario Court of Justice in Stratford on September 29, 2014, to answer to these charges."