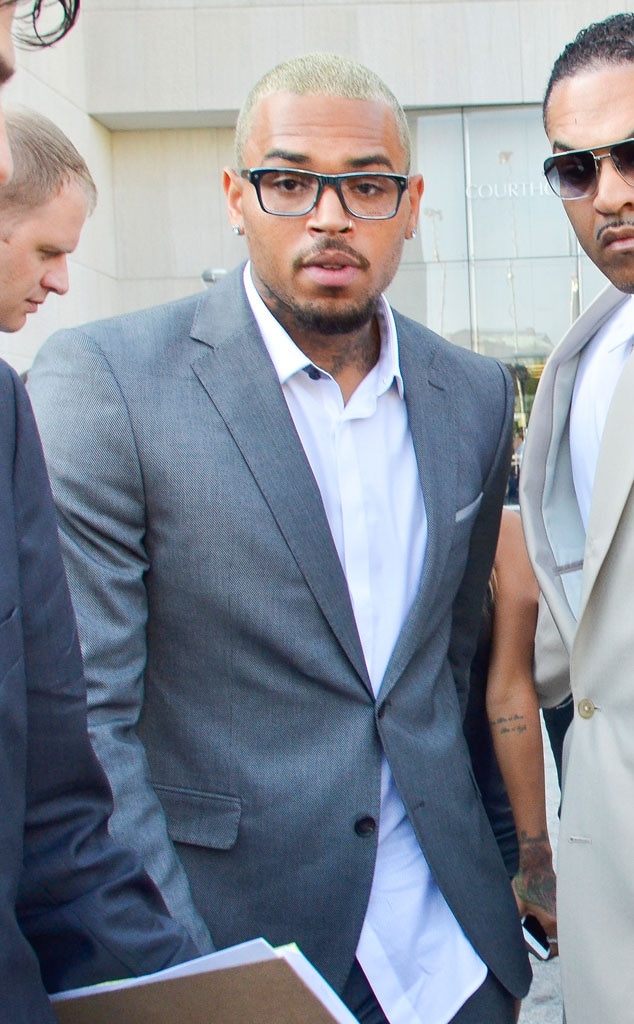 Kris Connor/Getty Images
Chris Brown has pleaded guilty to misdemeanor assault, stemming from an altercation with another male which took place in October in Washington, D.C., U.S. Attorney Ronald C. Machen Jr. announced on Tuesday. 
He was sentenced to time served after having been jailed for two days in the case and has also been ordered to pay $150 in court costs. 
The 25-year-old singer and his bodyguard were arrested and charged with felony assault on Oct. 27, when Brown was accused of breaking another man's nose after the guy tried to squeeze into a picture with the R&B star and some female fans. The charge was later reduced to simple misdemeanor assault.
Brown appeared in the Superior Court of the District of Columbia, where he entered the guilty plea before the Honorable Senior Judge A. Franklin Burgess Jr.
"As Chris Brown himself has now finally acknowledged, he punched a man in the face without provocation in the District of Columbia," said U.S. Attorney Machen. "No matter your status or celebrity, you will be held accountable for such conduct in our city."
According to the U.S. Attorney's office, Brown's bodyguard, Christopher Hollosy, was found guilty in April of simple assault following a trial in Washington, D.C. Hollosy, 36, is still awaiting sentencing.
At the time of the altercation, Brown was still on probation stemming from his 2009 attack on then-girlfriend Rihanna. His probation was revoked, and he was ordered to remain in a treatment facility. 
However, in May, he was thrown in jail for a probation violation and was ordered to serve 131 days before he was released in June. 
Following the hearing, Brown's attorney, Danny Onorato, spoke with reporters and said that the singer is "pleased with the outcome." 
"We think it's fair," he said. "It helps him get on with his life. As you know, Mr. Brown is a recording artist. He has a new album coming out, and he wants to focus on his career, doing well and completing his probation in California." 
"I think Mr. Brown has learned that you want to be more judicious about your actions," he continued when asked what the troubled star has learned from his hardships. "He's an incredibly talented, charismatic kid and I think he's someone you would like if you got a chance to sit down and talk to him. I think he's misperceived a lot, and he's just a wonderful person, and I'm glad this is behind him and he's able to move on." 
Asked whether he's confident Brown will never be in this kind of trouble again, Onorato replied, "I'm confident that Mr. Brown's going to make good choices going forward."
A charge of simple assault carries a maximum penalty of 180 days in jail and a $1,100 fine if convicted. Brown will not receive additional jail time and will remain on probation until early 2015.