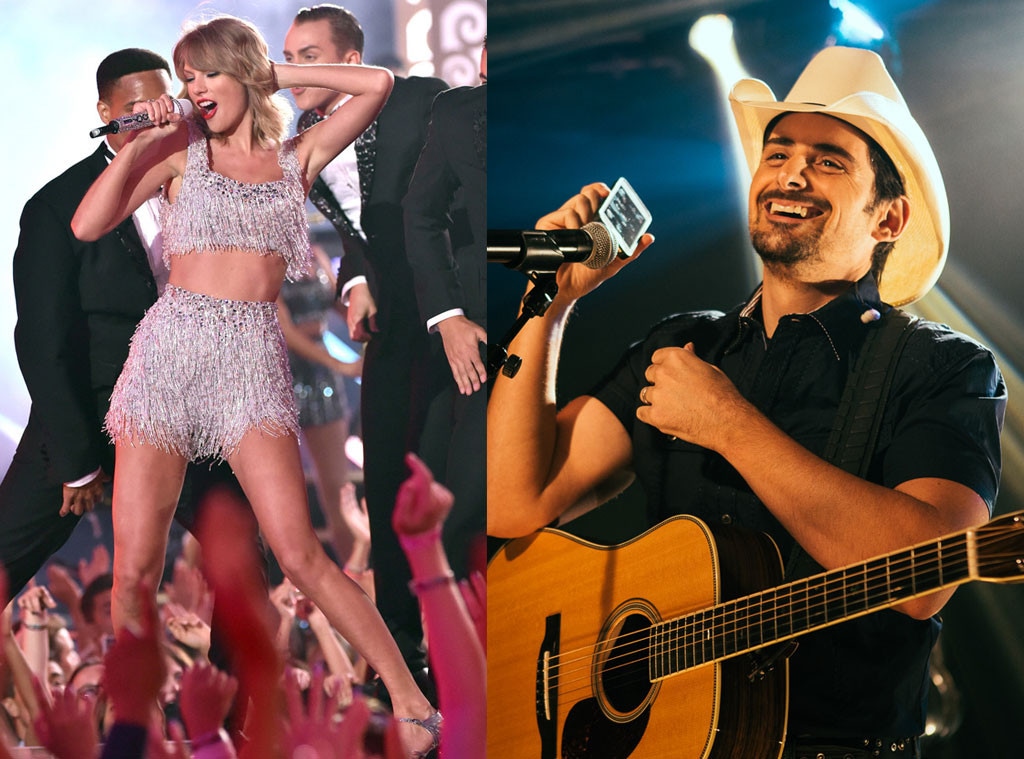 Michael Buckner/Getty Images, iHeartRadio
When Taylor Swift released her "Shake It Off" single and music video earlier this month, it was it official: The former country singer has made the switch to full-blown pop star!
So what do her Nashville contemporaries think about this crossover? Brad Paisley finds it "admirable," he told E! News Thursday at iHeartRadio's release party for his ninth studio album, Moonshine in the Trunk.
Taylor "has this vision for who she wants to be going forward," said the "River Bank" singer. He also praised his longtime pal for "say(ing) in a risky way, 'I am going to evolve beyond what you know me for already.'"
"People are going to have to get used to it cause its not the Taylor Swift obviously that you knew," he said. "Because this is somebody—like, she was talking about how she cut her hair, and she is spending time in different cities more and becoming more of a product—and she is a world famous superstar now. She is just not Nashville's, [and] we just have to kind of get used to that."
Brad, 41, isn't worried about Taylor, 24, and her future in pop music. "People are going to love it," he said, referring to her musical transition. "It's going to sell, and it already is [selling]. She has done a great job."
As far as Taylor calling out her haters (literally!) in her current single? "All of us have the urge to do that, and I respect her for doing that," said Brad. "I have that urge to do that as well, because it gets old just taking it when you're in the public eye."
"It gets old to sort of take it, and it's very noble to not say anything, but it's hard," he said. "It becomes a lot of fun to really steam now and again and challenge somebody who hates you. Because in the end, it's all very sort of unreal and not always accurate."
"You know the people who hate you," he added. "They don't really hate you with the same amount of fervor as the people who love you."
Moonshine in the Trunk was released on Aug. 26 and also features a duet with Carrie Underwood, titled "High Life," as well as a song called "Shattered Glass," which was inspired by none other than Paisley's wife, Kimberly Williams-Paisley of Nashville and Father of the Bride fame,
"It applies to any living breathing women," Paisley said. "It's a different kind of love song that its not about beauty and butterflies; it about belief and the wiliness for a man to step aside and let a women achieve her dreams and that's something my wife helped inspire."