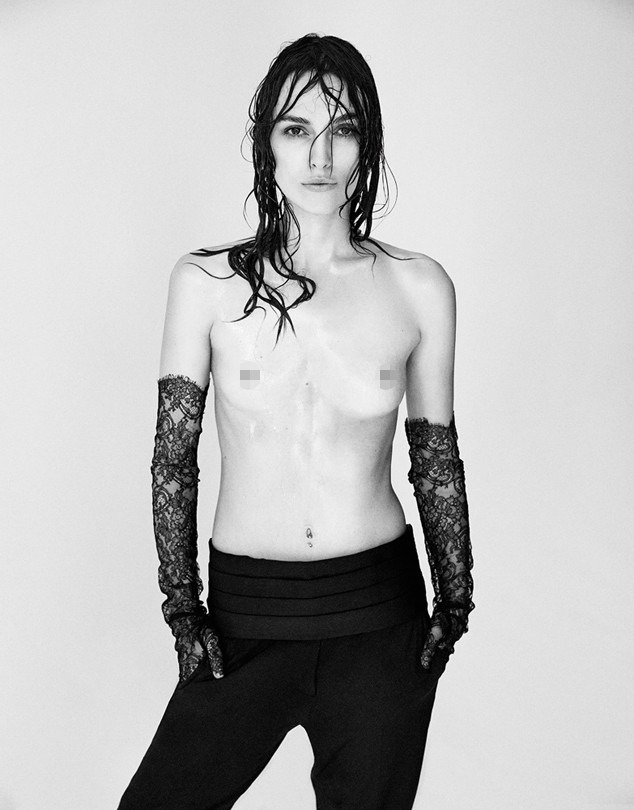 Courtesy Interview Magazine
Keira Knightley is going topless for a super high fashion photo shoot!
In a gorgeous new black and white spread for Interview magazine, the 29-year-old actress bares her breasts while striking a stunning pose in only high-waisted black pants and black lace gloves. Knightley pouts her lips with her long wet hair cascading down her head and face.
In another shot from the spread, Knightley wears a beautiful black dress while lying on her back. The gown features intricate embroidery of suns and birds. Also visible in the pic is Knightley's wedding ring.
Courtesy Interview Magazine
In a third photo, Knightley wears a similar black gown.
In the accompanying article, Knightley interviews famed fashion photographer Patrick Demarchelier. Knightley reminisced about a very important tip Demarchelier once gave her.
She recounted, "You said something really interesting to me on the shoot: 'You have to relax your face, because that's what good movie acting is, a relaxed face. It's the same thing as having pictures taken.'"
Courtesy Interview Magazine
"The face is supposed to be relaxed," he replied. "The more you relax..."
"You're absolutely right," Knightley interjected. "It's very funny, because no photographer has ever said that to me before and made the kind of connection between the two things."
Partick Demarchelier/Interview