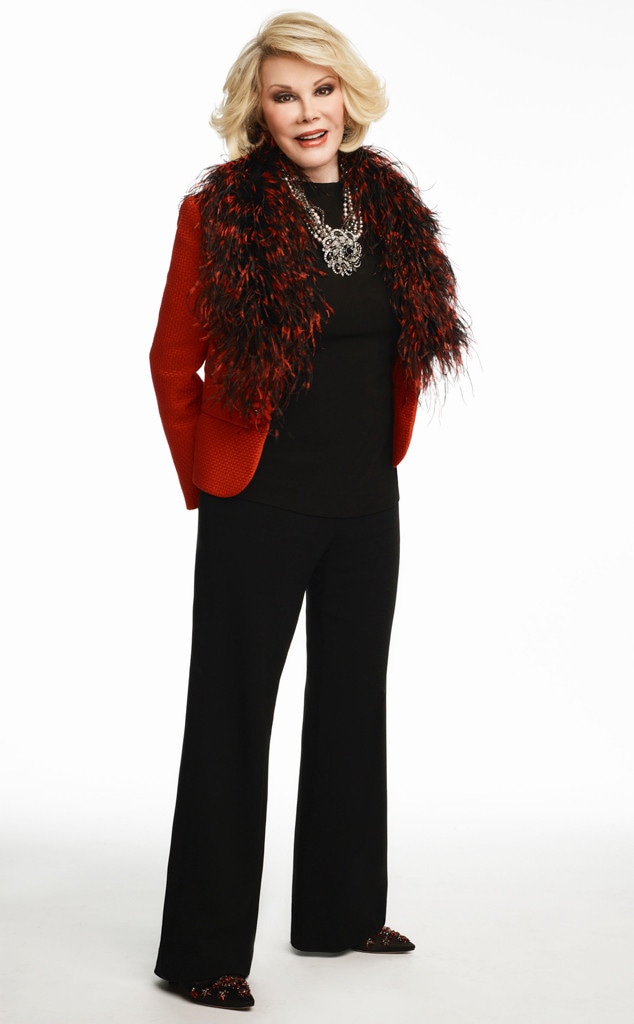 NBCU Photo Bank via Getty Images
Joan Rivers has passed away at 81 years old.
Her daughter, Melissa Rivers, released the following statement: "It is with great sadness that I announce the death of my mother. She passed peacefully at 1:17 p.m. surrounded by family and close friends. My son and I would like to thank the doctors, nurses, and staff of Mount Sinai Hospital for the amazing care they provided for my mother."
It continued: "Cooper and I have found ourselves humbled by the outpouring of love, support, and prayers we have received from around the world. They have been heard and appreciated. My mother's greatest joy in life was to make people laugh. Although that is difficult to do right now, I know her final wish would be that we return to laughing soon."
The tragic news comes days after the Fashion Police host suffered from complications while undergoing a recent throat operation in New York City on Aug. 28.
Melissa and her son rushed to be by the Hollywood icon's side upon hearing the news, and love and support from Hollywood's brightest stars quickly poured in paying tribute and sending well wishes to the legend.
The previous night, Joan was at a Q&A event where she was seen greeting fans before taking the stage to perform several minutes of stand-up.
E! News and NBCUniversal released the following statement on the legend's passing:
"E! and NBCUniversal send our deepest condolences to Melissa, Cooper and her entire extended family on this incredibly sad day. For decades Joan has made people laugh, shattered glass ceilings and revolutionized comedy. She was unapologetic and fiercely dedicated to entertaining all of us and has left an indelible mark on the people that worked with her and on her legions of fans. She's been a much beloved member of the E! family for over 20 years and the world is less funny without her in it. Today our hearts are heavy knowing Joan will not be bounding through the doors."
Joan first became a household name after landing in the spotlight in 1965 during a guest appearance on The Tonight Show with Johnny Carson. The duo's chemistry was so palpable that she was named the permanent guest host in 1983.
Then in 1986, she began the rival program The Late Show which sparked a highly publicized rift between the two late-night talk show hosts.
Joan's program was a watershed moment for not only late-night television programming, but for women in comedy as a whole—which had up until that point been a male-dominated bubble within the entertainment industry.
Joan singlehandedly broke boundaries and gender roles and quickly became famous for her outspoken—and often times controversial—no-holds-barred approach.
In 1994, both Joan and Melissa hosted the E! pre-show awards for the Golden Globes, which quickly became an absolute sensation.
One year later, the two co-hosted E!'s red carpet coverage of the Academy Awards and cemented their roles as fixtures on the awards season scene.
After briefly leaving the network for a stint at TV Guide, Joan made her triumphant return to E! where she has been hosting Fashion Police alongside Giuliana Rancic, Kelly Osbourne and George Kotsiopoulos since 2010.
That same year, she appeared on the Late Show With David Letterman where she brought her late husband Edgar Rosenberg's ashes on set and sprinkled them onstage, quipping, "We were banned for so long, so I like to say, 'Look we're back!'"
She also opened up about her supposed late-night ban, saying, "It was all about the Carson mess and it doesn't matter. You move on. It's so old…He was the one that gave me the break, he was the one who gave me everything."
And earlier this year, following a 26-year-break from The Tonight Show, an understandably excited Joan returned to the stage and immediately starting cracking jokes with Jimmy Fallon.
"It is very special for me to be back," she told the audience in a rare emotional moment.
"I had been working for eight years in Greenwich Village and nothing. And [Carson] said—God bless him— 'You're going to be a star.' It changed my life."
Many of today's comedians—female or otherwise—have come forward to credit Joan for inspiring them to go after their dreams, including Sarah Silverman.
In fact, Silverman recently told Esquire magazine that she sympathized with the pressures Joan faces as the figurehead for brazen, and even sometimes raunchy, women in comedy.
"People go, 'There wouldn't be a Sarah Silverman or a Kathy Griffin if not for you,'…And the truth is she's as vital as she's ever been. She's brilliant."
Whitney Cummings once recalled a particularly touching moment between her and the hilarious legend shortly after her roast on Comedy Central, where Joan gave her stamp of approval on her stand-up routine.
"Those are the kinds of knightings as a comic that keep you going for a really long time. I love her, she explained. "I truly f--ing love that woman."
Bill Maher has also expressed his unwavering affections for the E! star, telling The Hollywood Reporter last year that her best quality as a comedian was her "fearlessness."
Meanwhile, Don Rickles echoed the sentiment and told the mag, "Joan is not only a very intelligent lady but extremely masterful at comedy timing. Sharing the stage with her has always been a joy for me."
Barbara Walters named her "the funniest woman I know," while Bob Saget, Jerry Seinfeld, Gilbert Gottfried, Carl Reiner and many, many more have spoken out about their admiration for the TV trailblazer.
But it seems that Joan herself was never quite fond of the being called a legend or pioneer.
"It upsets me to say I'm a pioneer because I'm so current now," she once explained. "I don't like when the ladies come up and say, 'Oh, you broke barriers for women.' I'm still breaking barriers…and I can still take you sweetheart with both hands tied behind my back. You asked me am I proud to be a pioneer? I'm not a pioneer. I'm still in the trenches, I'm still breaking ground."
And during a 2012 interview with THR the comic sensation addressed the drama with Carson, explaining, "Looking back, and I never like to say it, the Carson breakup hurt me a lot, without realizing it."
She also offered some sage words of advice to those trying to make it in the grueling, competitive world of comedy:
"If there is a secret to being a comedian, it's just loving what you do. It is my drug of choice. I don't need real drugs. I don't need liquor. It's the joy that I get performing. That is my rush. I get it nowhere else."
She added, "What pleasure you feel when you've kept people happy for an hour and a half. They've forgotten their troubles. It's great. There's nothing like it in the world."
Joan is survived by her daughter and grandson, whom she recently gushed about to the Daily Beast, saying, "I'm crazy about him. He's turning into good kid. He's such a good guy and he's funny, thank you God. And we can laugh almost on an adult level. And it's all due to Melissa, who is an amazing mother."
In addition to her extensive work in show business, she's also advocated tirelessly on behalf of several organizations such as The American Foundation for Suicide Prevention, Wounded Warriors, God's Love We Deliver, Guide Dogs for the Blind and GLAAD.
Our thoughts go out to her friends and family at this difficult time.