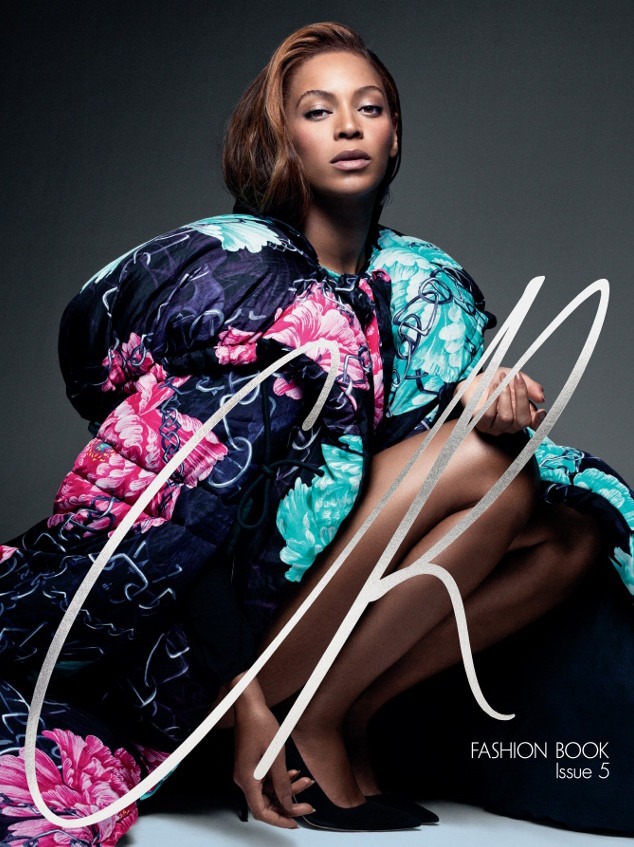 Courtesy CR Fashion Book
Remember when New York Times fashion critic Vanessa Friedman said Beyoncé wasn't a fashion icon? Well, big mistake, girl—huge!
Beyoncé is blending a whole lot of fierce and fashion on the coveted cover of Carine Roitfeld's CR Fashion Book, fittingly crowned Queen B. The publication unveiled its pop princess It Girl today after teasing a sample cover pic of Bey wearing a black-sequined pink puff ball mask on an alternate version of the fall-winter issue.
Unmasked, a fresh faced Bey styles a floral Yohji Yamamoto cape and sleek black stilettos, shooting an ultra-fierce gaze towards the camera.
Inside the issue, Queen Bey ditches her feminine cloak for a corset and a Chanel surfboard, naturally. We've never considered surfboards a haute couture commodity before, but hey—if Bey's wearing it, it's gotta be good!
In the last shot, the 32-year-old poses in a squat position clad in leggings and what looks like a knotted, oversized sweater. It's a sort of a high-end praying mantis kind of vibe, no?
Flipping through the glossy, don't expect to find a revealing tell-all about the singer—instead, she penned a poem titled "Bey the Light." Remixed by Pulitzer-prize winning Forrest Grander, we're guessing the sweet poem (a tribute to her precious daughter Blue Ivy, her "biggest muse") might be a precursor to a new single. Here's to hoping!
The mag hits newsstands on Beyoncé's actual B-day, Sept. 4, as a tribute to the sartorial star.