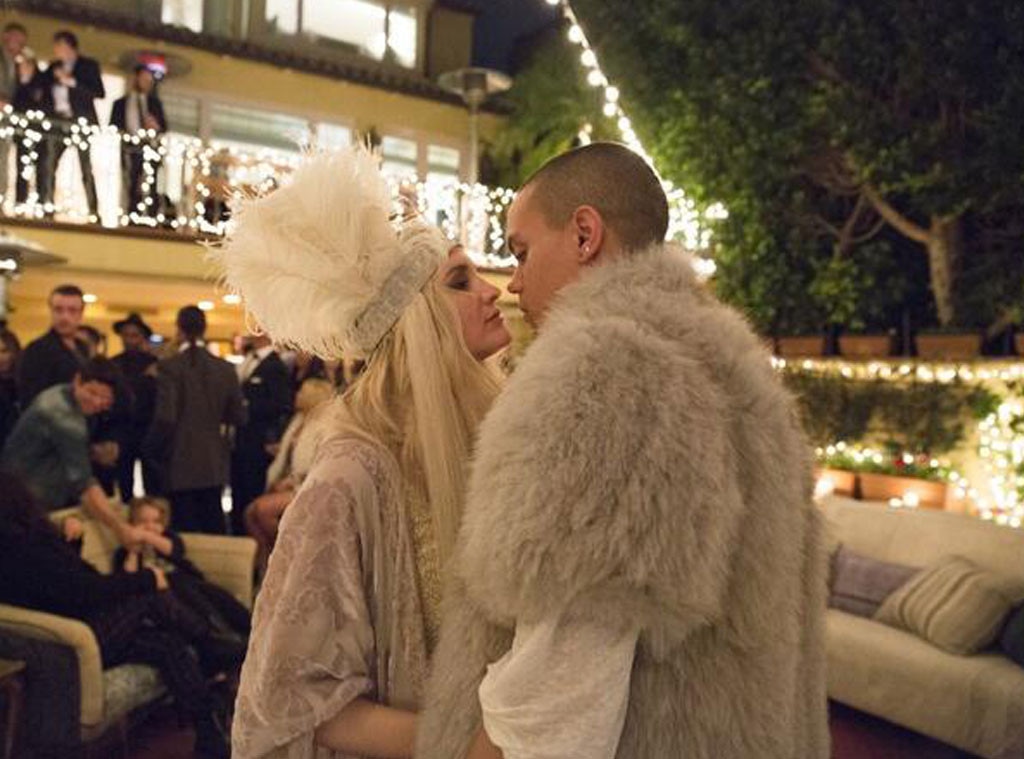 Twitter
Ashlee Simpson and Evan Ross are officially a married couple!
E! News confirms the two celebs tied the knot Sunday afternoon in a lavish, Bohemian-themed wedding ceremony held at the groom's mother's (Diana Ross) estate in Greenwich, Conn. The ceremony featured eclectic decor including huge dream catchers and tents, similar to their engagement party.
Wearing a lace dress and headband tucked into her long tresses, the blushing bride walked down the aisle that was lit with white lanterns hanging from the tree branches. She was accompanied by the No. 1 man in her life, son Bronx Mowgli Wentz.
Ross awaited his ladylove while looking dapper in Dolce & Gabanna. The intimate and short ceremony was officiated by Diana Ross, who wore a black gown, and included all of the duo's nearest and dearest, who also enjoyed a rehearsal dinner Saturday night at a member's only club at the estate.
Jason Merritt/Getty Images
The bridal party included sister Jessica Simpson as the maid of honor as well as gal pals Kelly Blair, Kimberly Ryan, Alicia Sevani, Yisney Terrero, Nia Sanchez, Chudney Ross, Rhonda Ross, Tracee Ross and CaCee Cobb. Jessica's daughter Maxwell, 2, served as the flower girl and wore an adorable whitedress with feathers.
Meanwhile, Ross' big grooms party included Ross Naess as the best man, Donald Faison, Eric Johnson, Gregory Andrews, Jovar Andrews, Dallas Austin, Jaz-man Bennett, Paul Blair, Daniel Booko, Tony DeNiro, Josh Faulkner, De'Vaughn Nixon, V Sevani and Jessy Terrero.
The famous mother-of-the-groom lent her superstar vocals at the wedding, singing "Ain't No Mountain High Enough" and "Lovely Day" during the ceremony's recessional. A choir sang Stevie Wonder's 1972 song "You & I" as the couple exchanged vows.
At the reception, the bride and groom were introduced by emcee Tracee Ross and the couple danced to Wonder's 1985 song "Overjoyed" for their first dance.
Diddy and Brandy were part of the star-studded guest list for the wedding, which was planned by Mindy Weiss. Designer Karl Lagerfeld was invited but was unable to attend.
Jessica was spotted dancing (and showing off some fly moves) with her husband Eric Johnson, and Maxwell and their other child, son Ace, 1. She also gave an emotional speech, saying Ashlee and Evan were "meant to be" and adding that her sister is a "great mother and aunt."
Family members in attendance also included Ashlee and Jessica's parents, Tina and Joe, who are separated. Their mother brought a date and was seen getting cozy and dancing with him, E! News has learned.
At dinner, attendees were served a first course of a salad made up of burrata and mozzarella cheeses, prosciutto, grilled vegetables, garlic croutons and baby arugula, dressed with olive oil. The rest of dinner was buffet style and guests piled plates with sliced beef fillets, baked butternut squash polenta with smoked gouda cheese, chanterelle mushrooms, roasted caulifower salad, Southern-style fried chicken, mac n' cheese, deviled eggs with bacon, hush puppies and pasta.
The guests also enjoyed late-night eats: Grilled cheese, french fries, apple and banana cream pies and wedding cake, of course.
On Monday, when the couple plan to continue the celebrations with their loves ones, witnesses spotted celebrity event planner Brett Galley entering the Ross estate.
Jamie McCarthy/Getty Images for Jessica Simpson Collection
The "Bat for a Heart" singer and the Hunger Games: Mockingjay – Part 1 actor got engaged in January 2014 and expressed their excitement to be married right away.
"Honestly, we could go and get married right now, wherever," Evan told E! News at SXSW in Austin, Texas. "We just want to be married. We're in love. This is the most incredible time I could ever think of in my life and I'm young, but the same time, I've lived a different life than most and I can't think of a happier moment."
This was the second trip down the aisle for Ashlee, who was wed to Fall Out Boy's Pete Wentz from 2008 to 2011. Together, the amicable exes share custody of 5-year-old son Bronx.