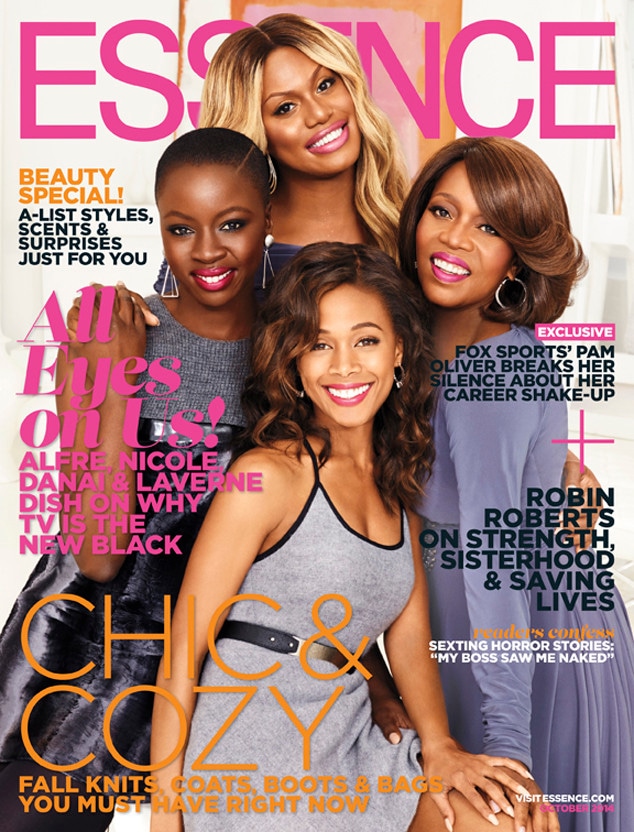 Essence Magazine
It's no secret Orange Is the New Black has found tremendous success on the small screen.
And for star Laverne Cox, it's so much sweeter knowing that such a diverse cast makes up the popular series.
"At one point I looked around and I said, 'I don't think anybody is going to go for this, but this is wonderful,'" Cox recalls in the October issue of Essence magazine. "It felt so good. Lo and behold, people really did go for it in a really big way."
And OITNB is only one of the many shows now showcasing diverse actresses. Of the nearly 30 new series premiering this fall, 11 will have an African-American female actress featured prominently in the show.
"People are watching television in a different way," Cox says. "People are understanding that [the traditional 'middle America'] demographic is not necessarily one that we always need to target, which is great."
Joining Cox on the gorgeous "Channel Changers" cover is Nicole Beharie (Sleepy Hollow), Alfre Woodward (State of Affairs) and Danai Gurira (The Walking Dead). All four ladies admit America's demographic is changing.
"The people who have traditionally made the decisions make them in a tower on the coast," Woodward says in the magazine. "They have no idea what America wants to see because they have no idea who America is. America is all of us who show up."
For these ladies, change is happening and it's nothing short of exciting.
"I've been acting for a very long time and not getting very far," Cox admits. "I would say we needed some sort of systemic revolutionary change for me to have an acting career. Netflix has provided that."