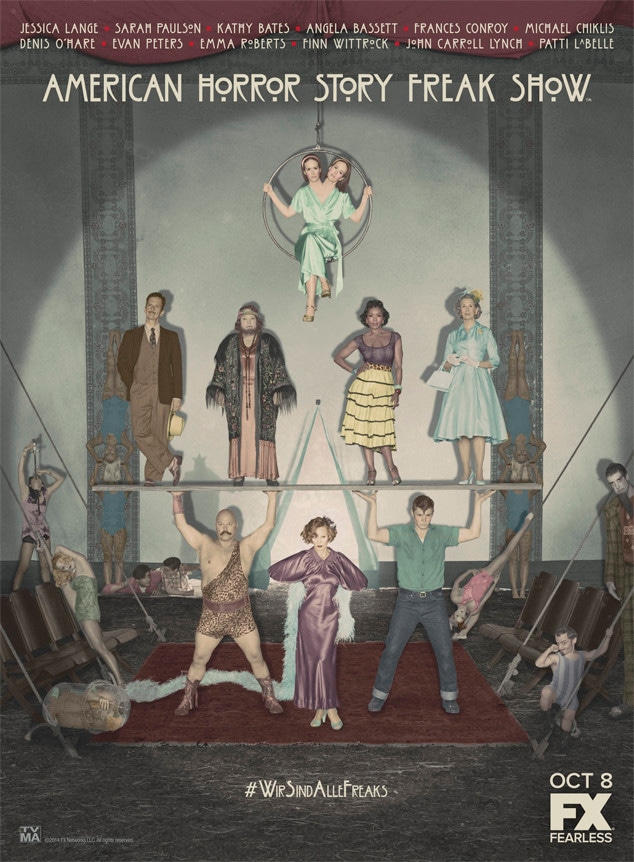 FX
You need to see the first cast art from American Horror Story: Freak Show. Four words: Bearded lady Kathy Bates. Take it all in above and then we need to talk about Jessica Lange's diva pose.
It's perfect.
Lange and Bates both won Emmys for their turns in American Horror Story: Coven and will return for the Freak Show in October. Also part of the Freak Show: Sarah Paulson, Angela Bassett, Denis O'Hare, Frances Conroy, Emma Roberts, Evan Peters, Michael Chiklis, Finn Wittrock, John Carroll Lynch, Patti LaBelle (yep!) and Gabourey Sidibe.
Does Bassett's character have three breasts?!
Lange plays Elsa Mars, the owner of one of the last remaining freak shows in America. The year is 1952, the setting is Jupiter, Fla. Paulson plays a two-headed woman, Chiklis is strong man Wendell Del Toredo, who was once married to Bates' character, Effil Darling, and is Bassett's character's husband. Peters plays their son Jimmy Darling.
Matt Bomer, who worked with Ryan Murphy in The Normal Heart, will also guest star this season of American Horror Story. According to The Hollywood Reporter, Murphy will direct the season premiere of Freak Show. Some teasers have started to roll out, including the one above and the one featuring a monster hand, a three-legged woman and a split tongue.
American Horror Story: Freak Show premieres Wednesday, Oct. 8, at 10 p.m. on FX.