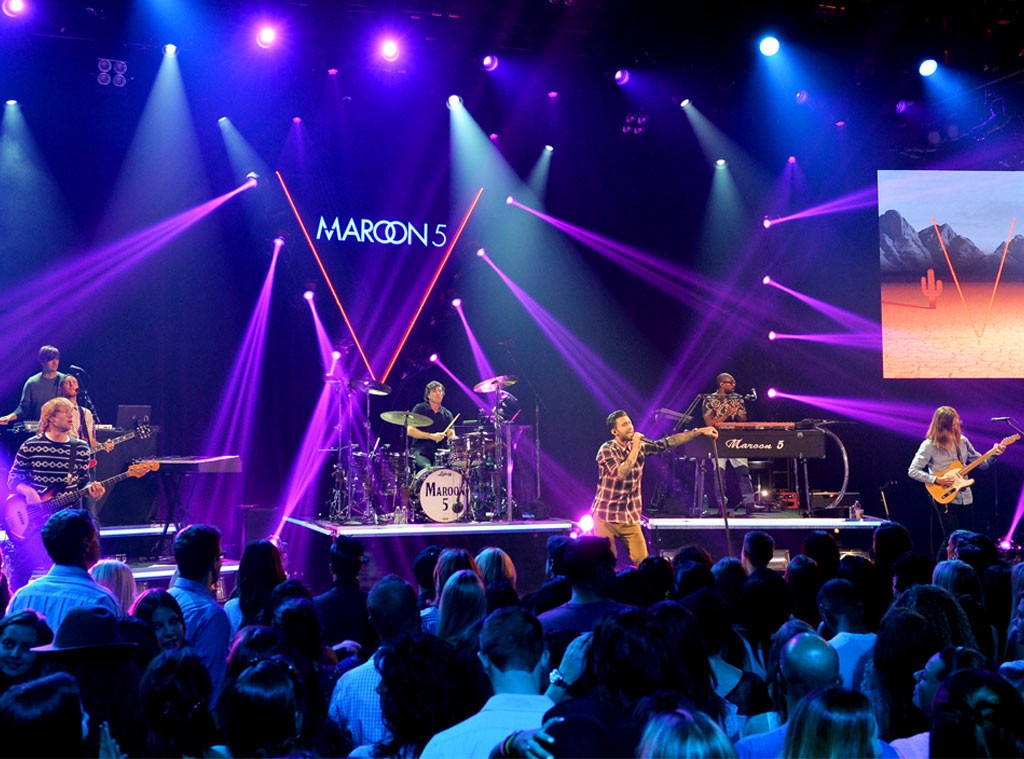 Kevin Winter/Getty Images for Clear Channel
The wait is almost over! Maroon 5's V is available Sept. 2, and to celebrate, the band performed seven songs at the iHeartRadio album release party inside the iHeartRadio Theater in Burbank, Calif. Tuesday. The concert was broadcast live on The CW and featured a Q&A with Elvis Duran and Christina Grimmie.
Adam Levine was asked how he juggles his music commitments with NBC's The Voice. "I have no idea. I must be crazy," he joked. "That's the best I have at this moment. It's really hard. It's a lot of fun to do these jobs. I feel very lucky to have so many jobs. It's hard enough to get one, let alone several thousand like I have." Asked when Maroon 5 will hit the road, he said, "We're going to tour...at some point."
Grimmie also took a few questions from Twitter users. "What is the weirdest thing a fan has ever thrown on stage?" she asked. "Um, like a bill that they wanted me to pay," Levine said. "It was like a rent check and I took it and I just paid it, honestly. It was really creepy, though! Please don't do that anymore."
During the commercial break, Levine said his rent check answer was "total bulls--t," adding, "I made that up." The singer also revealed on stage that Billy Joel "is the only person who knows what Maroon 5 stands for."
Dancing With the Stars' Mark Ballas and The Bachelor's Chris Harrison were in the audience, as was Levine's wife, Victoria's Secret Angel Behati Prinsloo. "She was in the VIP area on the balcony. She was wearing white skinny jeans, a black tank top, a denim shirt and a black hat," a source tells E! News. "She was chatting to her girlfriend for ages. Seemed to be in a good mood and was dressed super casual."
Maroon 5's set list featured hit singles from four of their five albums, including "One More Night," "Maps," "This Love," "Daylight," "Love Somebody," "It Was Always You" and "Moves Like Jagger."
An encore of the TV special will air Sept. 24 at 9 p.m. ET.
—Reporting by Sara Kitnick and Ruth O'Neill