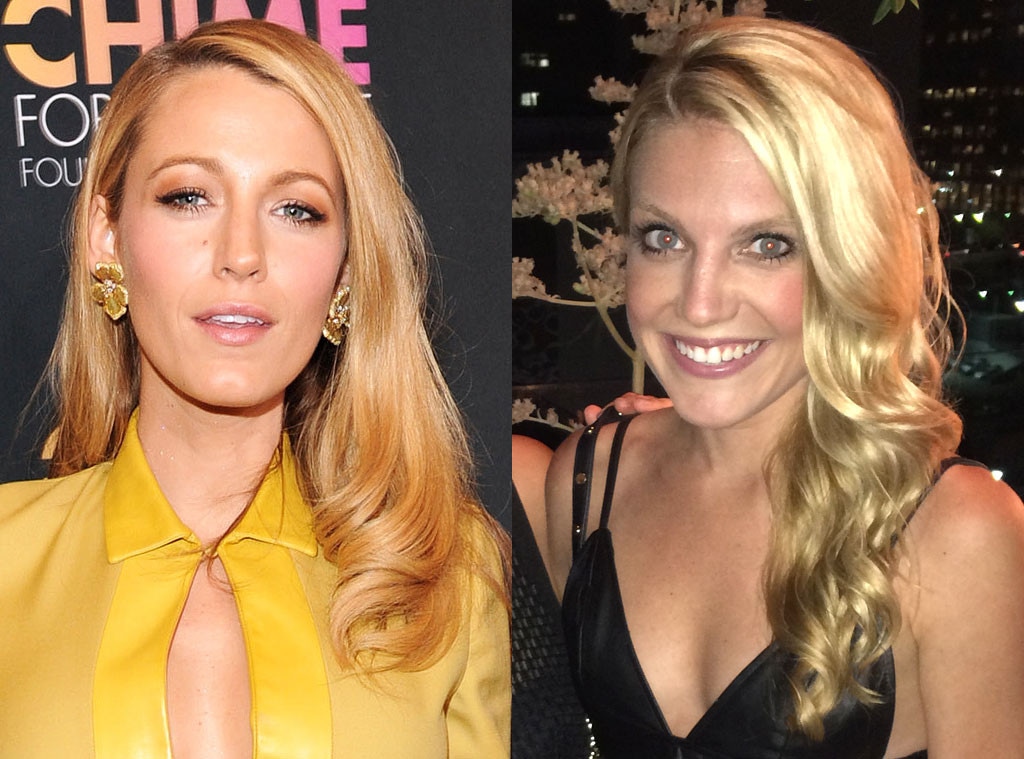 Getty Images
Full disclaimer: I'm obsessed with Blake Lively.
Of course, her perfection can be painstakingly annoying (particularly when she claims she doesn't work out and eats chocolate every night), but there's no denying that the blond beauty is always on point in the fashion and hair department—killing it on every red carpet she graces.
So naturally, when Ryan Reynolds missus spilled that her beauty secret is "putting coconut oil…on the tips" of her hair before shampooing, I immediately drove to Trader Joe's and purchased coconut oil for a whopping $8.49 as I embarked upon a mission to achieve the former Gossip Girl star's tresses.
But the fact that the 27-year-old beauty credits her luscious locks with an inexpensive at-home remedy got me thinking: What other DIY hair tricks should I be incorporating into my every day beauty routine?
Using Lively's gorgeous hair as my inspiration, I tried out five wacky at-home hair remedies. Here's the good, the bad and the ugly (literally) from my weeklong experiment. 
Experiment One: Egg Hair Treatment 
How It's Supposed to Work: The yolk of the egg is rich in fats and proteins and is said to be naturally moisturizing while the egg-white contains bacteria-eating enzymes which are used to remove unwanted oils. The protein also strengthens hair and helps rebuild damaged ends while also adding texture and luster to your tresses. 
How It Felt: Not nearly as bad as I thought! The prep was incredibly easy—simply wash your hair with shampoo, sans conditioner, beat a few eggs (I used three but it will depend on the length of your hair) and coat your head with the mixture—no further ingredients necessary! The eggs felt cold, but didn't feel as gross as I expected, considering I was rocking raw eggs on my head. Oh, and it goes without saying, do not touch your hair while you are letting the mixture work its magic, and be sure to wear an old T-shirt because the yolk will drip off of your ends. I left the egg concoction on for 20 minutes, then rinsed with COLD water (seriously, I was scared the eggs would cook if the water was hot) before washing my hair with shampoo and conditioner. 
The Result: My hair definitely looked shinier and had more body, but it felt a little frizzy. I put some oil on the ends to tame in the morning. Overall, I was happy with the results and this is something I would try again for a cheap and easy deep conditioning/strengthening treatment. 
Experiment Two: Beer Hair Treatment 
How It's Supposed to Work: Because beer is fermented, the hoppy beverage contains generous supplies of yeast, which is said to plump limp tresses. It is also used to help with shine in addition to boosting overall body, and even Catherine Zeta-Jones reportedly swears by the at-home beauty secret.
How It Felt: Much worse than I imagined. After putting a great deal of thought into which type of beer I would purchase, I was entirely too tired to drive to the store, so I walked to the CVS across the street, where I was left to decide between PBR and Coors Light. Naturally, I decided to #keepitclassy with Coors, but I was completely unprepared for the unpleasant experience on which I would soon embark. Although the prep was very easy—simply pour a beer in a glass and let it sit until it goes flat—the booze was still very cold when I poured it on my head. Before dousing my hair with beverage, I washed it with shampoo (no conditioner) and I let the beer sit out for at least two hours. I do not—repeat: do not—recommend doing this before bed unless you want to inhale the scent of beer and smell like a frat house before you hit the sheets. The scent was incredibly strong and it drips all over, but luckily, you only have to leave in for 3-4 minutes. The weirdest part about this treatment? You don't wash the beer out with shampoo, simply rinse with cold water and then use a fragrant conditioner. 
The Result: I didn't notice too much of a difference the next morning, but I did sleep with my hair partially wet (I didn't want to blow dry it with beer in it) so that may have had an effect on the amount of body. The color looked the same, and I thought it felt a bit tangled—kind of that bedhead look. I probably wouldn't try this again (unless I find myself unexpectedly running down memory lane at a frat party), but it certainly added a buzz to my night. 
Experiment Three: Coconut Oil Treatment 
How It's Supposed to Work: Coconut oil is rich in fatty acids and can be used as a conditioning treatment to moisturize your hair. By applying the oil to the tips of your hair before shampooing (à la Ms. Lively), you are essentially adding a protective layer to your ends, preserving the shine while still stripping your roots of all the grease and grim in the shower.
How It Felt: The prep is obviously very easy (you just need a jar of coconut oil), but be sure to apply over the sink because it can get a little messy. I applied the oil generously to my ends and the entire process was very quick and simple. Also, this may seem a bit silly, but sure not to store the coconut oil in the fridge—my roommate did this and I had to wait a day for it to thaw! 
The Result: I could definitely feel the "coating" from the oil on my hair and it did feel a little softer—even after only one treatment. This is definitely something I will keep up with, as I feel like it will make a difference over time, so feel free to check back with me on Twitter (@talk_toomey) to see how my tresses are feeling in 30 days! 
Experiment Four: Seaweed Hair Mask
How It's Supposed to Work: The mask is said to moisturize your hair and increase growth. Additionally, seaweed contains lots of vitamin A, B, C and E, which help the hair to produce the natural oils that are essential for a healthy scalp. 
How It Felt: Awful! The prep was the most complicated out of all of the treatments: after soaking 2 tablespoons of seaweed in water, I put one avocado, one tablespoon of yogurt, one tablespoon of olive oil and the seaweed in a blender to create a nasty looking green concoction. Since I do not have a real blender, I used a "chopper," which I thought would work fine, but in retrospect, I do not think the seaweed was ground up finely enough because the flakes got everywhere (seriously, it was annoying). Additionally, while I was supposed to leave the treatment on for 15 minutes, Beyoncé started performing at the VMAs...so it should go without saying that my mask was intact for slightly longer than directed (I couldn't miss Queen Bey!). 
The Result: Honestly, I didn't notice any difference. I had to wash my hair twice to get all the seaweed out and there were still green flakes falling out of my scalp the next morning (gross). Overall, it wasn't worth looking (or feeling) like a nasty green monster—not to mention the seaweed flakes that are still covering the walls of my shower!
Experiment Five: Coconut Oil and Honey Hair Mask 
How It's Supposed to Work: After endless shampooing and hair treatments, I wanted to cap off my experiments with something super-moisturizing, so I thought honey and coconut oil was the perfect solution. The mask, which can be applied to dry or wet hair (although mine was wet), is perfect for repairing and moisturizing damaged hair—something to which every girl with color-treated hair can relate. Honey also attracts moisture and is chock-full of antioxidants, which is said to encourage hair growth. 
How It Felt: The prep was pretty easy—just heat up one tablespoon of coconut oil and one tablespoon of honey in a saucepan—and then apply all over your head, from your scalp to your ends. Be careful because the mixture is very hot, but if you wait too long, the honey will congeal. With the exception of the heat, it was easy to apply and it smelled very nice and sweet. A far cry from the beer or seaweed experiment, this treatment was fairly pleasant. I simply flipped through a magazine while I let the mask sit on my head for 30 minutes with my hair in a bun. 
The Result: I definitely felt like my hair was softer and I kept touching it throughout the day. While an expensive deep conditioning mask would probably create the same result, this is a great—and inexpensive—alternative! 
The Overall Results: (from left to right, top to bottom) Before treatments, styled hair; After egg treatment, natural hair; After beer treatment, natural hair; After coconut oil treatment, natural hair; After seaweed treatment, natural hair; After coconut and honey mask, natural hair
Now, if you'll excuse me, I'm off to channel my inner Serena Van Der Woodsen. XOXO!