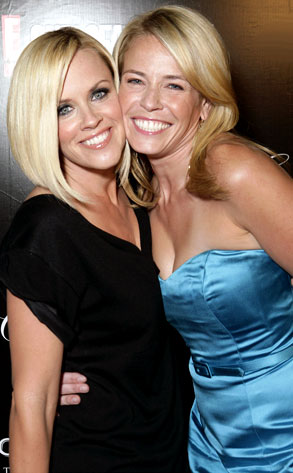 Todd Williamson/WireImage.com
E!'s resident funnylady and Chelsea Lately host Chelsea Handler has written another book called Are You There, Vodka? It's Me, Chelsea—and it's already a New York Times best-seller.
To fete the occasion, a cocktail party was thrown in her honor Wednesday night at Coco de Ville, the new bar adjacent to celeb-heavy steakhouse STK.
Despite the book's title, one celeb friend says her favorite times with Chelsea don't actually involve alcohol. "I just love being with her in general," said Jenny McCarthy, when I asked if she had any crazy drinking stories to share about Chelsea. "We don't really need to get liquored up. She's a straight shooter, and that's what I am, so we get along really well."
Tipsy or not, Chelsea was willing to give her two cents on the Miley Cyrus photo scandal. "It's such a recipe for disaster," she dished, adding that she thought having the 15-year-old wrapped up in a sheet suggestively was a bad idea. "Her dad was there; obviously this is going to go badly."
So could she end up like Lindsay or Britney? "Definitely, we're on the right track," she said. "It'll be in, like, six months."