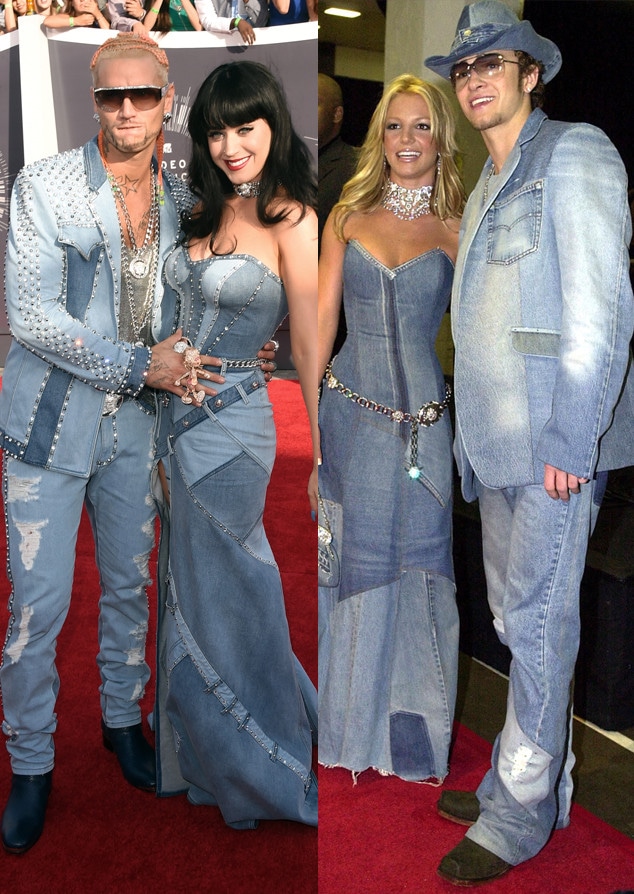 Jason Merritt/LUCY NICHOLSON/Getty Images
Denim déjà vu, anyone?
Katy Perry rocked a full-length denim ensemble for her red carpet arrival at the 2014 MTV VMAs—and yes, you are correct, it looks rather similar to what Britney Spears wore with Justin Timberlake circa 2001.
Perry explained that it was a Versace custom gown, and boy did she work it.
The singer walked the carpet alongside Riff Raff (who did his very best JT impression) and waved to fans in the crowds.
Perry sported a black wig with blunt bangs, a cowboy-themed choker and let's not forget, some serious cleavage.
"I must admit my outfit is a result of my love for nostalgia and my tumblr addiction," she wrote on her Twitter shortly before stepping onto the red carpet.
She added, "We're goin for da worst dressed today."