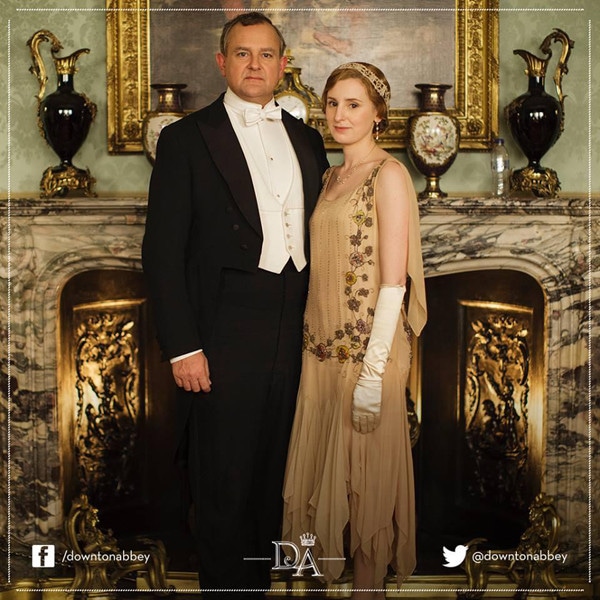 Twitter
It's the water bottle seen around the world.
Downton Abbey caused a lot of giggles (and headlines) recently when it released a publicity photo showing Lord Grantham (Hugh Bonneville) and his daughter Lady Edith (Laura Carmichael) that included a plastic water bottle on a mantel behind them.
"We don't know whose it was, to be honest," Joanne Froggatt, who plays Anna, told me this afternoon at BAFTA's annual Emmys tea party at the SLS hotel.
Despite reports that cast and crew are now banned from bringing modern day products to set (including underwear!), producer Gareth Neame said, "A lot of stuff written about our show and other shows is made up. We do let the cast and crew drink [water] when they're working."
Besides, Froggatt said, "We're only human. Things happen and you have to have a sense of humor about these things."
After the photo blooper was discovered, a pic of the cast holding water bottles on set was posted on the series' Instagram account with a link to the website for WaterAid, an organization that helps provide clean water to underserved communities.
"After seeing the reaction the picture caused earlier this week, the cast and crew came up with the idea of turning some of this attention towards an issue around water that really matters," a spokesperson for ITV, the show's U.K. home, said in a statement by way of WaterAid. "They hope that by posing for this picture they will be able to raise awareness and amplify the work of international charity—WaterAid."
Neame said this afternoon, "We don't know how much money we raised for WaterAid, but we hope a lot."
And so do we.
Watch:
"Downton Abbey" Stars on Water Bottle Slip-Up