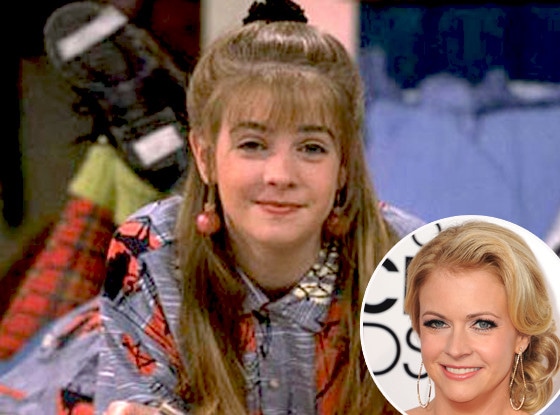 Steve Granitz/WireImage/Nickelodian
Attention, kids of the '90s! We've got a Friday treat for you, so take a seat on the big orange couch.
Fair warning up front: Don't blame us if you have the Clarissa Explains It All theme song stuck in your head by the end of this story. "Na, na, na, na, na…"
You probably associate Melissa Joan Hart with Nickelodeon's SNICK lineup or, more recently, her role on Melissa & Joey. But the 38-year-old mom to three boys has a new venture on the horizon: kids clothing.
Melissa and her husband, Mark Wilkerson, have teamed up to launch a line of children's clothing, King of Harts. The line is available for pre-order at KingofHarts.com now, and the brand will also donate a portion of its proceeds to the nonprofit Youth Villages.   
So, in honor of back-to-school, we caught up with Melissa and had her reminisce about her teen days. Just how far off was Melissa's own style from her vest-wearing, mixed print-lovin' Clarissa character? Keep reading as she explains it all for us. 
How close to your Clarissa character was your own high school style?
It wasn't far off, but I was a little more alternative rock than Clarissa, while she was in her own league. 
What are some of your favorite school memories?
Riding my bike around town after school and walking with neighborhood friends home. I was crazy for my dance classes, and I couldn't wait to get home at the end of the day to get to dance. 
What was your worst year of fashion when you were in school? Any cringe-worthy looks?
It didn't make me cringe as much as other classmates didn't approve. I wore a lot of NYC styles that preppy Long Island kids didn't approve of. But I did wear some Kids R Us styles a little too long, like into junior high school. I would wear big headbands with giant flowers on top. And I remember one sweater had a horse head on one sleeve with extra yarn hanging off the seam like the horse's mane. Yikes!
What trend did you rock back in the day that's back in fashion now? 
Combat boots. I had every kind of Doc Martens possible, and I gave them all away. Recently I caught my 17-year-old sister wearing my navy blue ones. I want them back! 
Do you and your family have any back-to-school traditions now?
New school bags and lunch boxes. 
What has it been like to start a line of kid's clothes?
This has been such a joy to create and help design a line of cool boys clothes! I'm most proud to be able to say it is all made with awesomeness in the USA!
How did it come about? What are some of your favorite pieces?
Mark and I were frustrated by the lack of interesting options in the boys section at most stores and that we couldn't find any graphic tees that didn't have licensed superheroes on them. I love our button-down chambray shirt for school picture day and the lobster with silly sunglasses tee for every day or camp. The boys and their friends each have a favorite graphic, so we feel we covered all the bases with the graphics. We also are excited that this business will benefit kids around the country in need with our association with Youth Villages.You can find info about the line and the charity on our website KingofHarts.com.