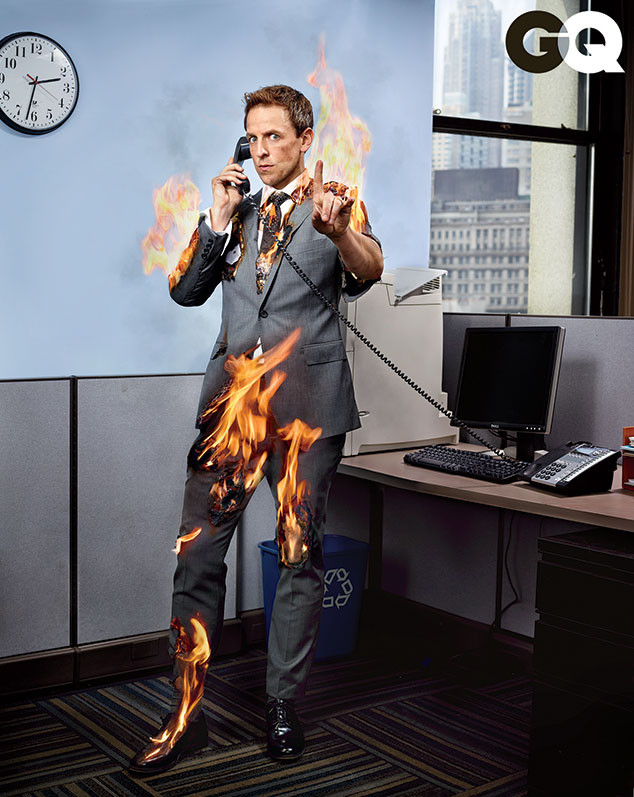 Martin Schoeller/GQ
Has Seth Meyers ever been hotter?
The newly minted Late Night host will emcee the 66th Primetime Emmy Awards on NBC this Monday, and to promote the event, Meyers lit himself on fire for GQ's August 2014 issue. (OK, OK—it's been Photoshopped.) What does Saturday Night Live's former head writer have in store for the ceremony?
Meyers "can't sing or dance," so he's got "really well-written jokes." Gimmicks are off-limits, though. "Nothing is more uncomfortable to watch than people who unsuccessfully aim for viral," he explains.
If he hooks the audience from the start, he's golden.
Meyers is an experienced host, of course. The 40-year-old comedian and screenwriter made athletes laugh at the ESPYs in 2010 and 2011, and he killed at the White House Correspondents' Dinner in 2011.
"As the night goes on, more people are upset because they haven't won—but the monologue is the one time of the night when everyone is in a really good mood," Meyers says. "And positive. And optimistic."