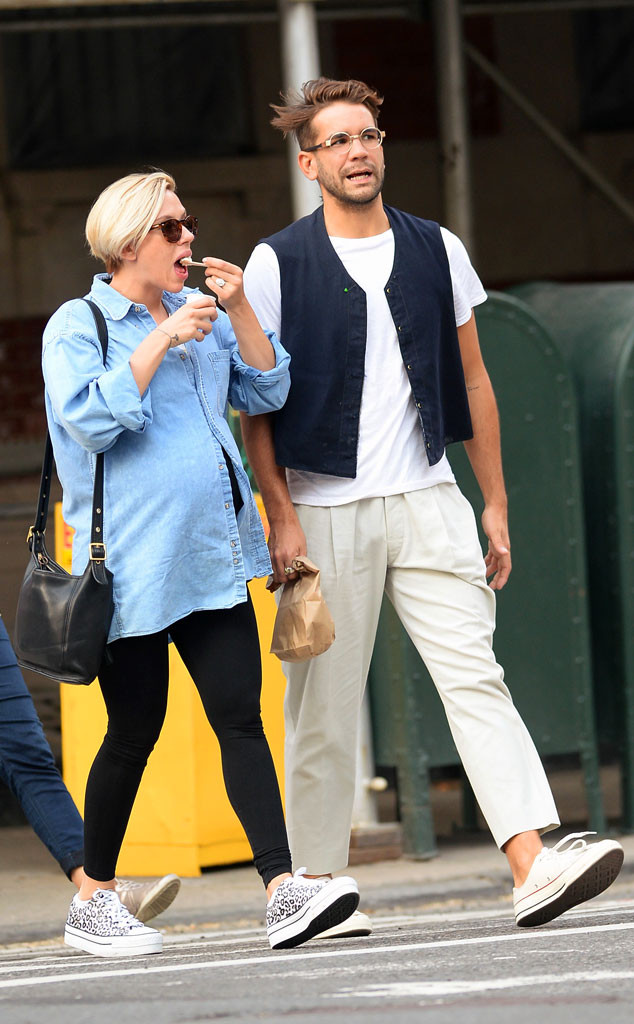 Elder Ordonez/INFphoto.com
How does Scarlett Johansson beat the heat? With an ice cream cone, of course.
The pregnant Lucy actress satisfied her pregnancy craving before a movie date with fiancé Romain Dauriac on Sunday. The 29-year-old mom-to-be looked casual, chic and comfortable while wearing a chambray shirt, leggings, sneakers and sunglasses as she and Dauriac strolled through New York City.
Johansson hasn't spoken publicly about her pregnancy—but her baby bump speaks for itself.
In fact, Johansson had to hide her new curves while filming Avengers: Age of Ultron. To accommodate her pregnancy, three stunt doubles were hired to stand in for the actress. "It's always funny," said co-star Chris Evans, who has worked with Johansson on four other films since 2004's The Perfect Score. "You walk by, 'Hey, Scarlett—oh, weird. You're not Scarlett at all. Sorry.' A lot of fake Scarletts around."
When Johansson was able to shoot, she wasn't forced to hide her growing baby bump behind ridiculously oversized props. "She's not going to spend the whole movie carrying groceries," director Joss Whedon told Entertainment Weekly. "We didn't trim any scenes. We're like, 'We'll make it work.'"