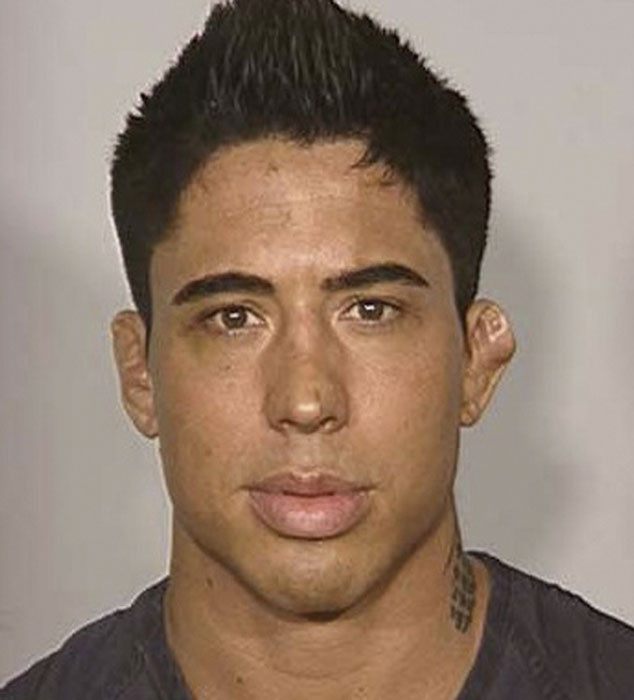 Las Vegas Metro Police
UPDATE: Jonathan "War Machine" Koppenhaver has been sentenced to life in prison with the possibility of parole in 36 years, according to local media reports. The earlier that the former professional MMA fighter will be released from prison is when he is 71-years-old.
________
Koppenhaver was found guilty on 29 out of 34 charges today in a Las Vegas court. The jury was not able to reach a verdict on two charges: attempted murder and attempted murder with a weapon against his girlfriend at the time, Christy Mack. He is currently facing a life sentence based on today's ruling.
"We're very disappointed in the verdict but we have the highest respect for the jury system and respect the perspicacity of this jury," Jonathan's attorney said in a statement to E! News. "Even so, we haven't the luxury of dwelling upon the verdict. It's time to pour all of our efforts into a motion for a new trial and toward securing the best sentence we can for Mr. Koppenhaver."
________
War Machinewas arrested in Simi Valley, Calif. today, according to NBC News.
The MMA fighter has been accused of beating his ex-girlfriend, adult entertainer Christy Mack. An arrest warrant was issued for the 32-year-old mixed martial artist earlier this week stemming from an incident in Las Vegas, charging him with several counts of battery, assault with a deadly weapon and other crimes, police said, per The Los Angeles Times
Officials took Koppenhaver into custody around 1:45 p.m. on Friday, at the request of the U.S. Marshals Service.
Police said he was found at a Simi Valley hotel, where there was a "a small quantity of cash and some pizza" in the room before he was transported to the Ventura County Jail.