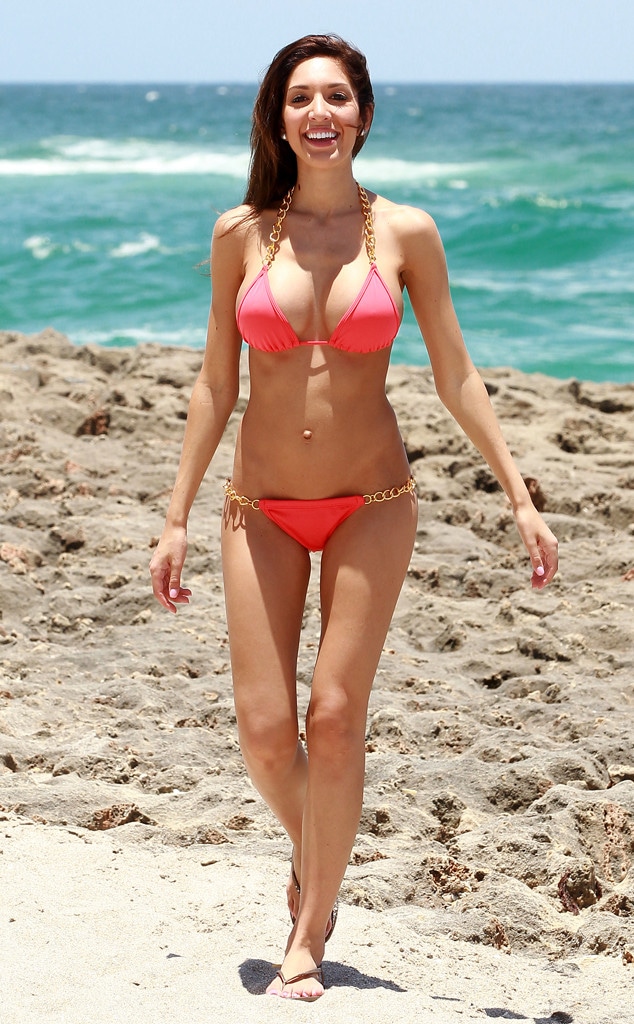 Ralph Notaro / Splash News
Move over, Jennifer Aniston! A Teen Mom star is following in your pole-dancing footsteps!
Farrah Abraham recently began a stripping gig at Palazio Gentlemen's Club in Austin, a source confirms to E! News. "She was hired a couple of weeks ago as a cocktail waitress but wanted to make more money dancing, so they moved her up to the stage," the insider dished. "She was on all three stages, the main stage and two side stages."
But Abraham says she hasn't begun a new career as a stripper.
"I'm doing research," the 23-year-old explains to E! News exclusively. "A friend of mine works there and I'm researching. I've been trying out all the roles that make up a gentleman's club, including cocktailing and dancing. There's management and there's cooking too. It's job shadowing that I hope pays off. In the same way Jennifer Aniston researched her role as a stripper, that's what I'm doing. It's how I get the information to write my books and do my movies. Unfortunately, I'm not free to talk about what those future projects may be. But I'm interested in hearing all the women's stories. And while I'm doing it, I'm getting paid. I'm getting paid to play a role and get informed."
Whether stripping may not be Abraham's new permanent gig, it sounds like she's already been quite successful as a dancer. The gentlemen's club source tells us guys were swarming the stage with money when Abraham was on stage. At one point, she laid down on her back and ripped her bra off.
"She was definitely not shy and looked like she knew what she was doing," the insider said. "She was wearing a nude thong and bejeweled bra. She wasn't awkward at all and was actually quite good."
—Reporting by Katie Rhames and Beth Sobol