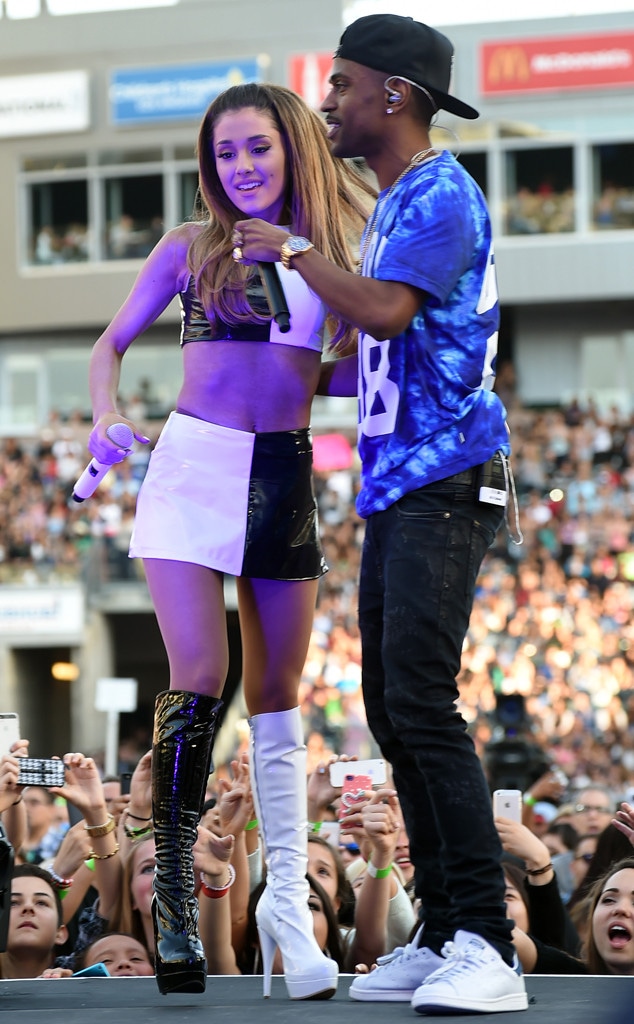 Jeff Kravitz/FilmMagic
New (and a bit surprising) couple alert!
It looks like singer Ariana Grande and rapper Big Sean have taken their friendship to a new level. A source tells E! News that the pair, who worked on Grande's hit "Problem" together, are dating.
"They have been friends since they made the song together. They have been spending more time together and recently have been getting very close. They are both doing great," the source tells us. Big Sean's rep had no comment on the matter, while Grande's rep has yet to respond.
Arianna and Big Sean were also spotted at The Grove in Los Angeles after leaving the theater from a late showing of The Purge.
An eyewitness tells E! News the duo came in about a quarter way into the movie, and only about three people recognized them. Source also claims that he saw the pair kissing during the film, and left before it was over.
Earlier this month, E! News exclusively broke that Ariana ended things with her 19-year-old Aussie boyfriend Jai Brooks last month. "When her grandfather was dying, everyone was there for her. People flew to Florida to be with her, but Jai didn't," the source said. "Ariana just felt he wasn't there like he should have been."
Meanwhile, the rapper was engaged to Glee star Naya Rivera but the pair ended up splitting in April after Big Sean, "made the difficult decision to call the wedding off." Following the public breakup, Rivera shocked everyone by marrying actor Ryan Dorsey in a super secret Mexico wedding three months later.
Are you surprised to hear about Ariana and Big Sean? Sound off in the comments!
—Additional reporting by Lindsey Caldwell