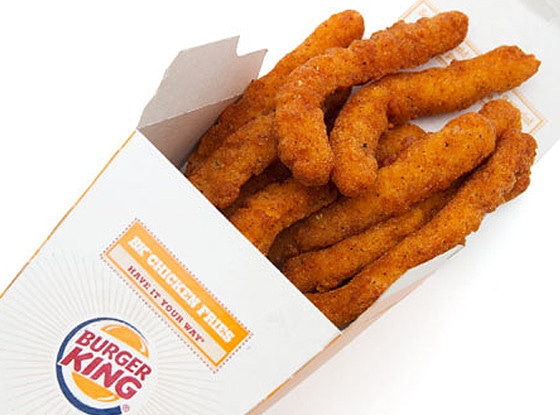 Burger King
Let's all agree that the highest amount of joy you can feel is when you or your significant other or someone you love gives birth to their first child. Think about the magnitude and purity of that joy.
OK, now right above that is the joy everyone is currently feeling about Burger King bringing back Chicken Fries. It's like BK gave birth to a fast food menu item we loved so dearly and lost, and the world is rejoicing.
And why shouldn't they be?! Chicken Fries are back! But only for a limited time, so we're just going to ignore that and stay in denial land where the Chicken Fries never run out and the drive-thru line is always free and clear.
The BK Lounge (we actually cannot resist the Dane Cook reference and we are so sorry), launched Chicken Fries back in 2005, but they were sadly cut from the menu in 2012. The company says they decided to put them on the menu again after seeing numerous online petitions and requests/demands on Twitter.
The Internet works! Finally.
So needless to say, everyone is super hashtag blessed that they get to eat Chicken Fries again.
Went to get chicken fries...sold out. RT if u cried

? Noah Bear (@YoungCub_) August 11, 2014
do you think the chicken fries return is a prophetic analogy for the second coming of jesus christ

? skyler (@skylermarrr) August 11, 2014
If you dont even know what chicken fries are just never speak again ever

? dylan orlando (@dylan_orlando) August 11, 2014
Burger King brought back chicken fries my life is complete

? hunter (@sextng) August 11, 2014
Then the Burger King said: "The Chicken Fries never really went away. They were in your heart all along."

? Will Stegemann (@BeTheBoy) August 11, 2014
bk worker: "would you like to try our chicken fries today, they're back!" me: pic.twitter.com/rosRxCBclz

? ? (@reggie_grn) August 11, 2014
the chicken fries have returned to BK fam ?? @flexxico pic.twitter.com/v8pbQHdKjA

? Finesse (@AlexAmador_) August 11, 2014
Burger King is making more money today than they have in the past five years combined

? ?O?maneater ?O? (@VLVoss) August 11, 2014
Chicken fries coming back to Burger King is the best thing that's happened to me since birth tbh

? Madie (@MadieArledge) August 11, 2014
What a great day for fans of deep fried chicken tenders in the shape of creepy, skinny fingers!