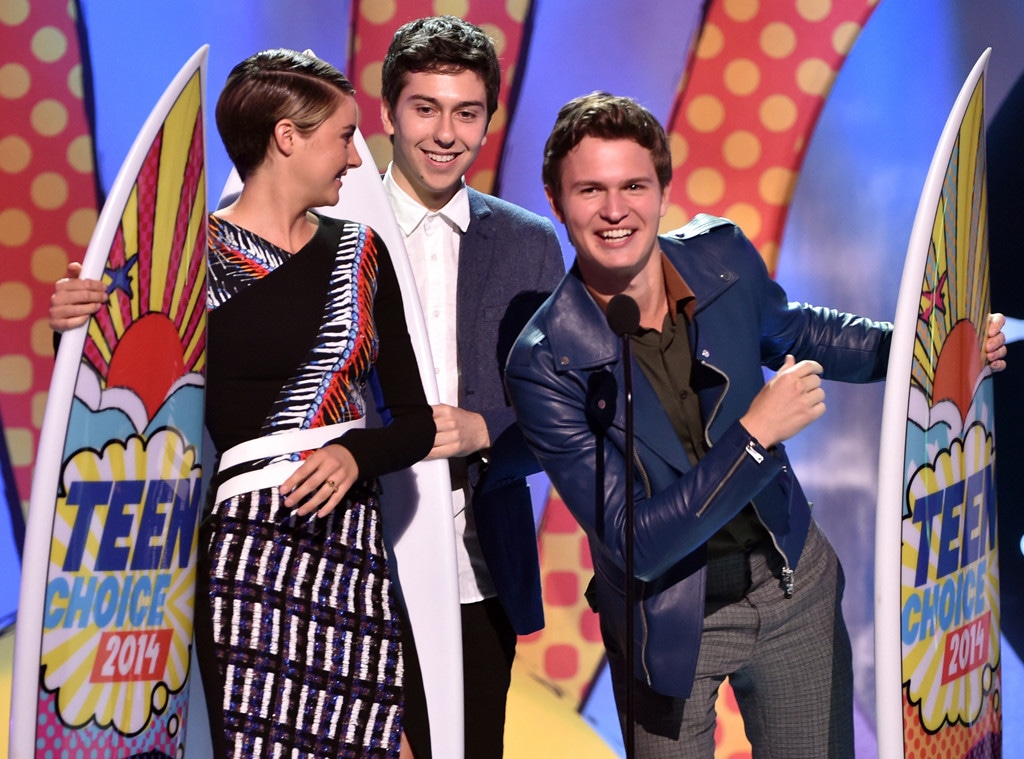 Kevin Winter/Getty Images
All hail the teens!
The 2014 Teen Choice Awards took place Sunday night at the Shrine Auditorium in Los Angeles, where hosts Sarah Hyland and Tyler Posey put on another memorable show.
From rockin' performances to tearful speeches, there were so many memorable moments. Here are just a few highlights.
The Fault in Our Stars Domination: After winning Choice Movie Actor: Drama, Ansel Elgort appeared to be really savoring the moment onstage. "My heart goes out to everyone who's dealing with [cancer] because cancer sucks," the actor said when accepting his first award of the night. Unfortunately, the music began to play leaving Elgort no choice but to wrap up his speech. Luckily, he was given more time to speak when the film won Choice Movie: Drama and Choice Movie: Chemistry. 
Kevin Winter/Getty Images
Maid in Manhattan Reunion: Did anyone else freak out when Jennifer Lopez and Posey appeared on the same stage together? After starring in J.Lo's 2002 romantic comedy Maid in Manhattan, Posey decided he now wanted to be her next backup dancer. His tryout definitely had us LOLing.
Selena Gomez Loves Mom: While accepting her Ultimate Choice Award, Gomez teared up as she thanked her fans and mom for all they do for her every day. "I want to thank my mom so much because she's the greatest human being in the world, and she's strong and she's given up her life for me," she said while holding back tears. "This never belongs to me. This only goes to you."  
Birthday Girl: What better way to celebrate your 17th birthday than by winning a Teen Choice Award? Such was the case for Kylie Jenner who accepted Best Reality Show for Keeping Up With the Kardashians with sisters Kendall Jenner and Kim Kardashian. "This has been the most awesome birthday present ever so thank you," Kylie told the crowd.
Best Dancer: As Becky G performed her summer song, "Shower," we couldn't help but smile when the cameras panned to Ariana Grande and her grandma dancing along. Guess we now know where Grande gets her amazing moves from.  
Opening Star: Can Demi Lovato open every Teen Choice Awards? The singer kicked things off with a performance of "Really Don't Care" with Cher Lloyd. The single would later win Choice Summer Song. "Be the best that you can be because your dreams can come true if you work hard for it," Lovato said in her acceptance speech.  Inspiring as always!  
Shirtless 5 Seconds of Summer: Did you hear the screams when the boy band won two Teen Choice Awards? And even though they couldn't be there in person, the group made girls' hearts melt when they accepted their awards shirtless. Well done, gentlemen! 
Shailene Woodley Loves Shark Week: If you ever wonder what the winners do with their surfboards, the Divergent star has a few ideas. "I'm actually going to take this in the water during shark week!" she joked after winning Choice Movie Actress: Action/Adventure.
Here is the complete list of winners from the 2014 Teen Choice Awards:
Choice Movie, Action/Adventure: Divergent
Choice Movie Actor, Action/Adventure: Theo James, Divergent
Choice Movie Actress, Action/Adventure: Shailene Woodley, Divergent
Choice Movie, Sci-Fi/Fantasy: The Hunger Games: Catching Fire
Choice Movie Actor, Sci-Fi/Fantasy: Josh Hutcherson, The Hunger Games: Catching Fire
Choice Movie Actress, Sci-Fi/Fantasy: Jennifer Lawrence, The Hunger Games: Catching Fire and X-Men: Days of Future Past
Choice Movie, Drama: The Fault in Our Stars
Choice Movie Actor, Drama: Ansel Elgort, The Fault in Our Stars
Choice Movie Actress, Drama: Shailene Woodley, The Fault in Our Stars
Choice Movie, Comedy: The Other Woman
Choice Movie Actor, Comedy: Kevin Hart, Ride Along
Choice Movie Actress, Comedy: Emma Roberts, We're The Millers
Choice Movie Villain: Donald Sutherland, The Hunger Games: Catching Fire
Choice Movie Scene Stealer: Nat Wolff, The Fault In Our Stars
Choice Movie Breakout Star: Ansel Elgort, Divergent and The Fault in Our Stars
Choice Movie Chemistry: Ansel Elgort, Nat Wolff and Shailene Woodley, The Fault in Our Stars
Choice Movie Liplock: Shailene Woodley and Ansel Elgort, The Fault In Our Stars
Choice Movie Hissy Fit: Jonah Hill, 22 Jump Street
Choice Summer Movie: 22 Jump Street
Choice Summer Movie Star: Channing Tatum, 22 Jump Street
Choice TV Show, Drama: Pretty Little Liars
Choice TV Actor: Drama: Ian Harding, Pretty Little Liars
Choice TV Actress: Drama: Lucy Hale, Pretty Little Liars
Choice TV Show: Fantasy/Sci-Fi: The Vampire Diaries
Choice TV Actor: Sci-Fi/Fantasy: Ian Somerhalder, The Vampire Diaries
Choice TV Actress: Sci-Fi/Fantasy: Nina Dobrev, The Vampire Diaries
Choice TV Show: Comedy: The Big Bang Theory
Choice TV Actor: Comedy: Ross Lynch, Austin & Ally
Choice TV Actress: Comedy: Lea Michele, GLEE
Choice TV, Animated Show: THE SIMPSONS
Choice TV, Reality Competition Show: The Voice
Choice TV, Reality Show, Keeping Up With The Kardashians
Choice TV Villain: Dylan O'Brien, Teen Wolf
Choice TV Reality Personality, Male: Adam Levine, The Voice
Choice TV Reality Personality, Female: Shakira, The Voice
Choice TV Male Scene Stealer: Tyler Hoechlin, Teen Wolf
Choice TV Female Scene Stealer: Candice Accola, The Vampire Diaries
Choice TV Female Breakout Star: Sasha Pieterse, Pretty Little Liars
Choice TV, Male Breakout Star: Brett Dalton, Agents of S.H.I.E.L.D.
Choice TV, Breakout Show: Faking It
Choice Summer TV Show: Wipeout
Choice Summer TV Star, Male: Tyler Blackburn, Pretty Little Liars
Choice Summer TV Star, Female: Ashley Benson, Pretty Little Liars
Choice Male Artist: Ed Sheeran
Choice Female Artist: Ariana Grande
Choice Music Group: One Direction
Choice Electronic Dance Music (EDM) Artist: Calvin Harris
Choice R&B/Hip-Hop Artist: Iggy Azalea
Choice Rock Group: Imagine Dragons
Choice Male Country Artist: Hunter Hayes
Choice Female Country Artist: Taylor Swift
Choice Country Group: Lady Antebellum
Choice Country Song: "This is How We Roll," Florida Georgia Line featuring Luke Bryan
Choice Single Female Artist: "Problem," Ariana Grande featuring Iggy Azalea
Choice Single Male Artist: "Sing," Ed Sheeran
Choice Single Group: "Story of My Life," One Direction
Choice R&B/Hip-Hop Song: "Fancy," Iggy Azalea featuring Charli XCX
Choice Rock Song: "Pompeii," Bastille
Choice EDM Song: "Wake Me Up," Avicii
Choice Love Song: "You & I," One Direction
Choice Break-Up Song: "Story of My Life," One Direction
Choice Music Breakout Artist; Austin Mahone
Choice Music Breakout Group: 5 Seconds of Summer
Choice Summer Song: "Really Don't Care," Demi Lovato featuring Cher Lloyd
Choice Summer Music Star, Female: Demi Lovato
Choice Summer Music Star, Male: Jason Derulo 
Choice Summer Music Star, Group: 5 Seconds of Summer
Choice Summer Tour: One Direction, "Where We Are Tour"
Candie's Choice Style Icon: Zendaya
Choice Female Hottie: Selena Gomez
Choice Male Hottie: One Direction
Choice Smile: Harry Styles
Choice Male Athlete: LeBron James
Choice Female Athlete: Serena Williams
Choice Web Star, Female: Bethany Mota
Choice Web Star, Male: Tyler Oakley
Choice Web Star, Comedy: Our2ndLife  
Choice Web Star, Music: Shawn Mendes
Choice Web Star, Fashion/Beauty: Zoe Sugg ("Zoella")
Choice Web Star, Gaming: PewDiePie
Choice Web Collaboration: Troye Sivan & Tyler Oakley - The "Boyfriend" Tag
Choice Social Media King: One Direction
Choice Social Media Queen: Katy Perry
Choice Twit: One Direction 
Choice Viner: Cameron Dallas
Choice Instagrammer: Miley Cyrus
Choice Fanatic Fans: #Directioners
Choice Comedian: Kevin Hart