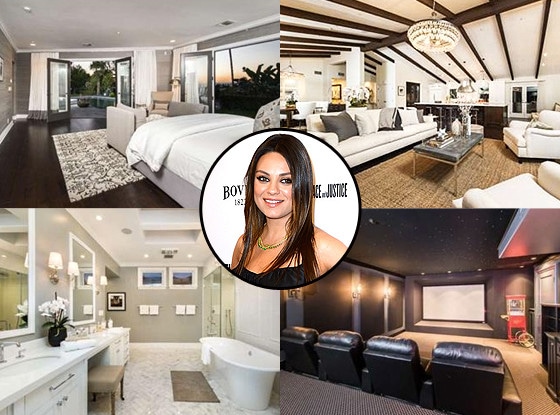 Jordan Strauss/Invision/AP, Zillow.com
Mila Kunis is preparing for a huge new chapter in her life—marriage and baby for the win!—so it only makes sense that it's time to move on from her L.A. digs.
The pregnant and engaged actress has decided to put her 5,000-square-foot Mediterranean-style Los Angeles bachelorette pad on the  market, E! News confirms, and is hoping to score nearly $4 million from the sale with the help of Million-Dollar Listing LA stars Josh and Matt Altman.
So what can one expect from a luxurious home that was once owned by one of Hollywood's biggest stars? According to Zillow, the close-to 5,000-square foot property is seated on a private cul de sac in the heart of the Hollywood Hills.
The beautiful compound has been completely redone from top to bottom, and includes high ceilings, open floor plan and breathtaking panoramic views from every room. The house also features five bedrooms and five bathrooms, a fireplace, porch, pool and hot tub. Of course, safety was a big concert for Kunis, so her digs also includes a Crestron security system, as well as a high-end home movie theater for eight people—perfect for entertaining guests!
"I never wanted to get married. From the age of 12, I prepared my parents for no marriage," the pregnant movie star said in W's August 2014 issue. She adds, "Then things changed—I found the love of my life. Now my theory on weddings is: Don't invite anyone. Do it privately and secretly. My parents are okay with that. They're just excited that I said yes."
As for motherhood, Kunis said, "I have never wanted to be the person who only has business on her mind. To me, this job has always been a hobby that turned into a great profession, but I don't eat and breathe acting. I'm sure Meryl Streep has a very different point of view. But I'm excited about being a full-time mom."
—Reporting by Claudia Rosenbaum