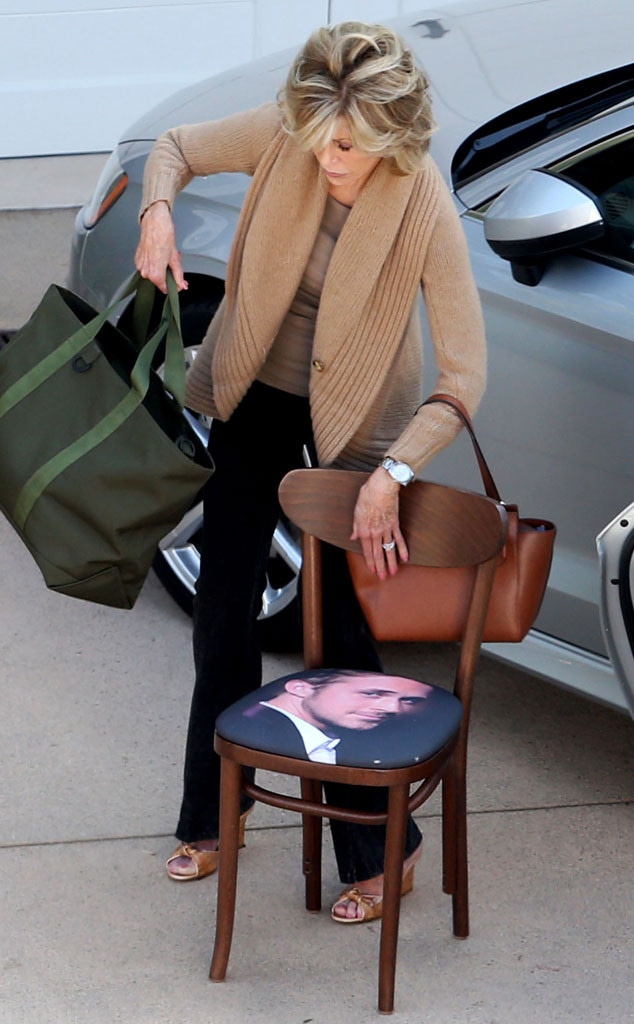 Splash News
What's it worth to you to be able to sit on Ryan Gosling's face?
There's a waiting list, mind you, and shipping is $99.95.
But someone has already hooked up Jane Fonda, who was spotted with the ultimate in luxury kitsch—an otherwise plain-looking chair with a seat cushion that features a pic of Gosling's handsome mug—on the set of the upcoming Netflix series Grace and Frankie.
The two-time Oscar winner was spotted with a brace on her foot yesterday and understandably wanted to take a load off. Now, the only question is whether the set supplied the chair or if it's a prized possession she brought from home...
Or perhaps they will make for a great "hey, girl" sight gag in Grace and Frankie, about two women (Fonda and Lily Tomlin) who find out that their husbands are running off together.
The Ryan Gosling Chair, one of a series of limited-edition Face Chairs, sells for $319 on Gilt. It is described as a Mid-century bentwood chair with a dark walnut finish, and each one is signed and numbered by photographer Jennifer Graylock.
"Each chair is unique, flaws and imperfections are part of the art piece," the site reminds us—as if this chair has any flaws!
Unfortunately, even though this certainly isn't the first time that Gosling has gone meta, these are sold out—and so are all the other models in the Face Chairs series, including furniture featuring Jennifer Lopez, President Barack Obama, Angelina Jolie, Sofía Vergara, Anna Wintour, David Bowie and more. Heck, even the Flying Bird Art Chair is sold out.
But who wants to bet that a lot of crafty fans are currently making their own Ryan Gosling Face Chairs at home right now? Or are wondering, "Why didn't I think of trying to sell the chair I made three years ago with Ryan Gosling's face on it? Back to the drawing board!"