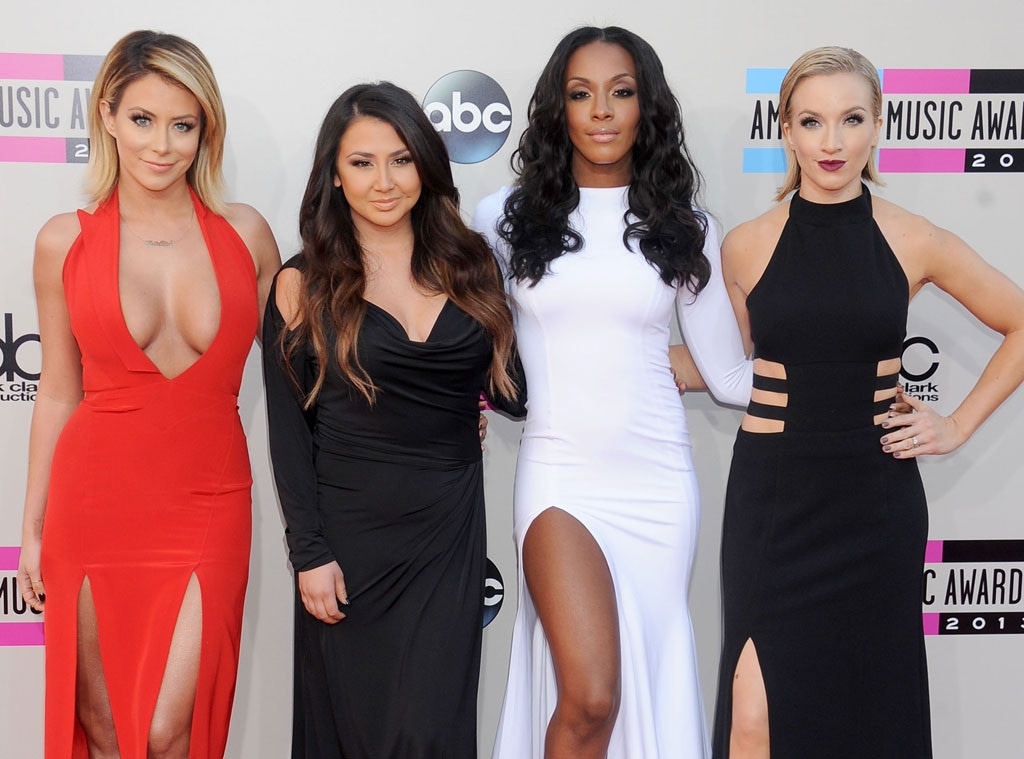 Gregg DeGuire/WireImage
It's safe to say that Danity Kane is damaged (see what we did there?).
The all-female group—who broke up in 2009 and then reunited last August without original member D. Woods—has announced that they've decided to break up...again. The news of their split comes on the heels of reports that there was a violent physical attack between two members of the group while in the studio.
Aubrey O'Day and Shannon Bex have each released a statement to try and explain to fans the reasoning behind their decision to end Danity Kane.
"During a recent group meeting, a business conversation took a turn for the worst when my group member punched me in the back of my head while I was speaking to another associate," Aubrey wrote, without specifying who allegedly struck her.
"To be clear, she was not physically engaged or threatened prior to her attack on me. This is the same information I provided to the police, and witnesses also corroborated this account of the incident. I cannot condone or excuse any form of physical violence, particularly at the hands of someone I considered family. Disagreements happen. But a war of words and ideas should never end in physical aggression."
However, Bex wasn't afraid to call out a name when addressing the incident in her statement.
"As for the actions that have brought us to this broken ending, I cannot speak for anyone or explain their internal struggles that prompted this heartbreaking sequence of events. All I know is what I have seen. I did not witness a shouting match, a cat fight or a brawl. I witnessed a single direct punch. In reflecting on this situation, I recalled a journal entry I wrote back in April.
"Initially, I struggled with sharing something so transparent and personal with all of you. However, my desire to be honest with you trumps all other considerations. As you can tell, I have been avoiding saying names. However, this was my personal reaction to escalating events that led up to my overall frustrations with Dawn [Richards]….months ago."
Bryan Smith/Empire state building
Richards has not released a statement, but did offer some words to explain her side of things on Twitter. She began by retweeting a TMZ article that states Richards found out O'Day and Bex were having secret meetings and recordings behind her back, and that the physical altercation was set off after Dawn ambushed one of their private meetings.
Then she followed up with the following: "And even still I Was working with both teams to still release the album when this story was leaked without anyone being consulted...Extremely sorry to the fans. You don't deserve this. You're worth more."
Meanwhile, Aundrea Fimbres, who announced in May that she's engaged and leaving the group to start a family, has left her response to the entire situation up to a cryptic Instagram post of a Tupac quote that reads, "Don't believe everything you hear. Real eyes. Realize, real lies."
Danity Kane was first assembled by P. Diddy in 2005 on the reality show Making the Band.