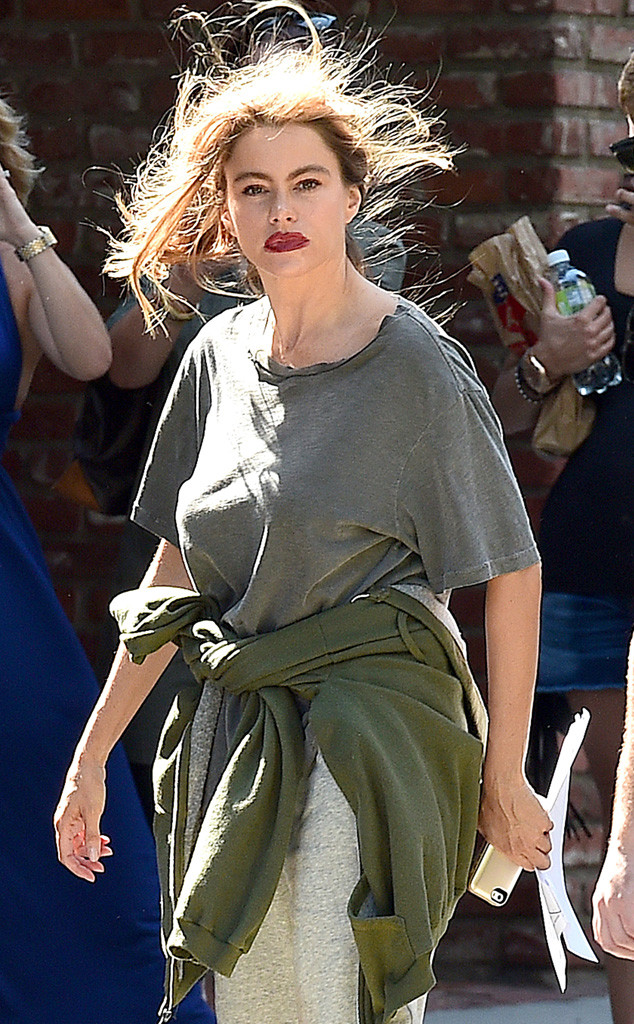 Raef-Ramirez/AKM-GSI
What happened to Sofia Vergara?!
The usually sexy star looked downright dowdy in L.A. Thursday. The 42-year-old Colombian actress was photographed having the worst hair day ever. And her smeared lipstick would make Cover Girl cringe! What's more, Vergara's famous curves were covered in an over-sized gray shirt and ripped sweatpants.
Don't worry: she wasn't suffering a meltdown.
As it turns out, Vergara was filming scenes for Modern Family's upcoming sixth. That's what's so great about the actress—she never puts vanity before comedy. However, details regarding her wardrobe and the episode are being kept under wraps until the ABC comedy returns in September.
While Vergara herself wasn't nominated for at the 66th Primetime Emmy Awards, her co-stars Ty Burrell and Jesse Tyler Ferguson are going up against each other in the Best Supporting Actor in a Comedy Series category. Julie Bowen, meanwhile, is up for Best Supporting Actor in a Comedy Series. Modern Family is nominated for Best Comedy Series, while recurring guest star Nathan Lane also scored a nod.