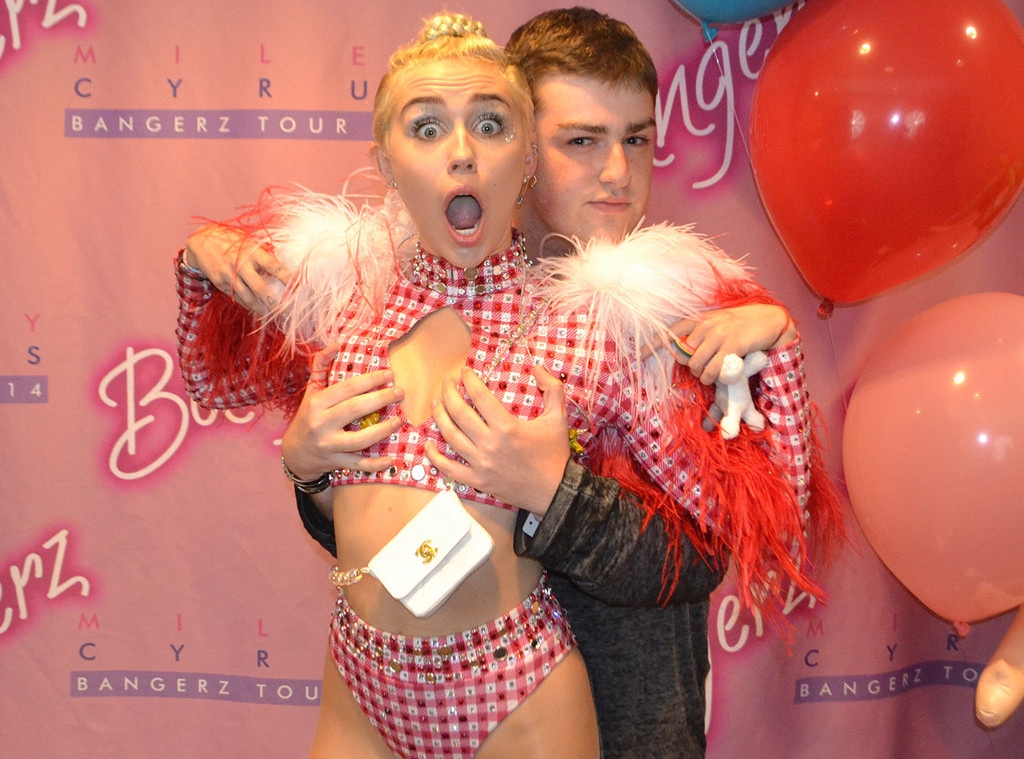 SFP / Splash News
So this is what goes on during a Miley Cyrus meet and greet. Noted.
The Bangerz singer made a stop at the Nassau Coliseum in Uniondale, NY, this past weekend, and one fan decided to make the most of his time with Miley during her usual interaction with fans prior to the show. In what became an extra friendly (and pretty inappropriate, but it is Miley, so...) encounter, a fellow ID'd only as David from New York grabbed Cyrus' boobs.
With a (we're assuming faux) surprised look on her face, Miley stands in front of the young fan while in her concert get-up as he wraps his arms around her and cups her lady lumps. Oh, but that's not all...
According to the photo agency, David also asked the "We Can't Stop" crooner to be his "first and last kiss with a girl." Miley responded that she would be his "first and last kiss with a boy," and the two then proceeded to stick their tongues out at each other, posing for a snapshot that shows the duo coming dangerously close to playing tonsil hockey with each other.
"Miley is just having fun with her fans. She spends time with them and talks to them at meet and greets," a source tells E! News.
But before you start spritzing some Binaca in your mouth in hopes of getting a lip-lock with Cyrus, you should know that tonguing and groping the singer comes at a hefty price.
A meet and greet with Cyrus reportedly costs $995. Worth it?