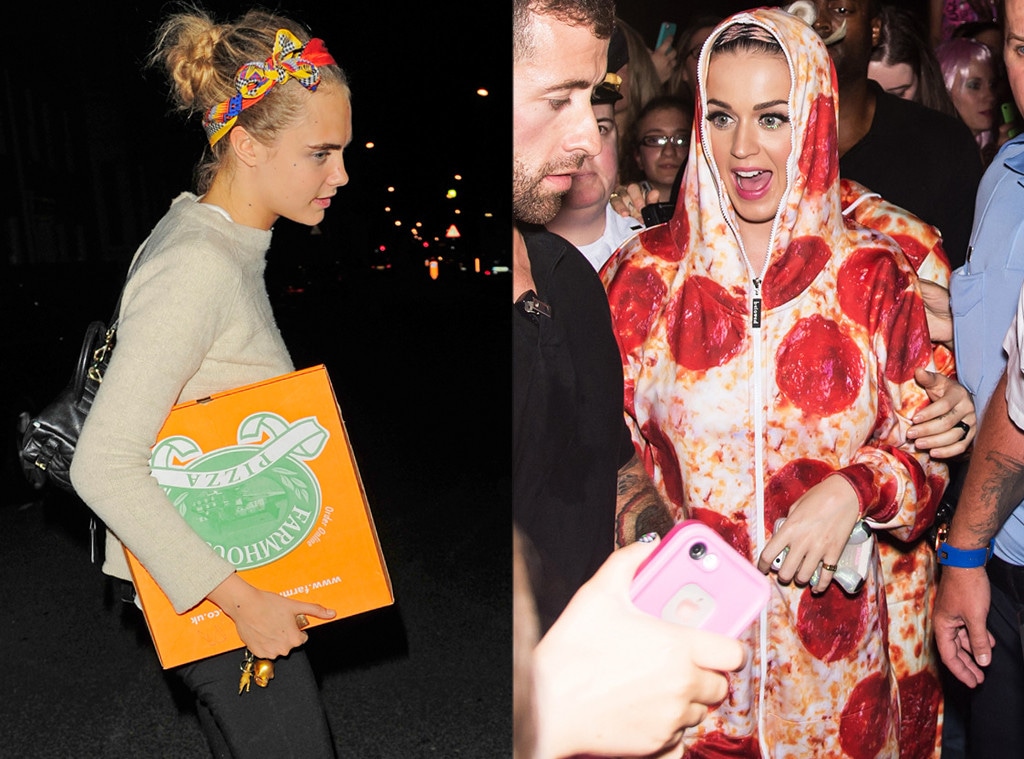 Ouzounova/Splash News/Xposure/AKM-GSI
Did somebody order a pizza?
While leaving the Chiltern Firehouse Wednesday night in London, Cara Delevingne was spotted carrying what looked like a large pizza box. But upon closer investigation, we realized the pizza is actually a purse.
We just hope Cara didn't disappoint her group of friends when she showed up to the club with what appeared to be a piping hot pizza…when it actually just held her credit card and lipstick. Buzzkill.
Either way, Cara D. is just about the chicest pizza delivery gal we've ever seen.
And Cara is not the first star to hop on the pizza-as-fashion bandwagon. Just this past Tuesday Katy Perry stepped  out to the Philadelphia Museum of Art looking deliciously cheesy and greasy in a pepperoni onesie.
The 29-year-old singer also sported pizza earrings and a pizza swimsuit in her "This Is How We Do" music video.
And while we're on the topic of celebs and pizza ensembles, we've got to give a shout-out to Beyoncé, who just one week after announcing her veganism in December donned a pizza-emblazoned crop top and matching leggings. Oh Bey, always the trailblazer.
To give you a bit of pizza fashion history, designer Jeremy Scott was actually one of the first to start the trend when he presented his "Food Fight" collection during his fall 2006 New York Fashion Week runway show.
So, what do you think of these pizza getups? We're not sure if we'd wear 'em, but we  definitely know what we're ordering for lunch today…