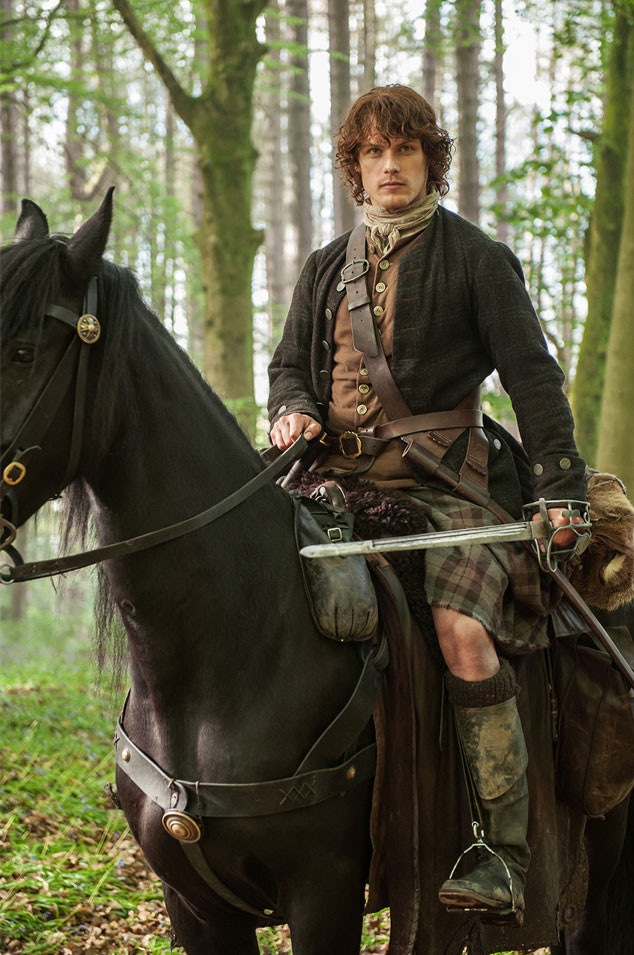 STARZ
There are moments where one must act like a respectable journalist. And then there are these moments.
Sam Heughan, the lead of our new TV obsession, Starz's Outlander, did not hold back when discussing the pros and cons of wearing a kilt.
Watch the video below. 'Cause you just have to see him.
And then you can thank me for asking the important questions.
Watch:
Is "Outlander" the Next "Game of Thrones?"
"I've worn kilts before," Sam confessed...with pride. "I thoroughly enjoy it. When I do have to put trousers on now, I sort of refuse and stomp my feet because riding a horse in a kilt is very liberating, very freeing actually. And very comfortable. Also, should you ever need to do a nature relief, go to the restroom behind a tree, it's very quick, it's very easy. I recommend it for everyone."
Sam then lamented the fact that he was wearing "trousers" at that very moment, and there were jokes about him taking them off, and then I blacked out.
Outlander, which Heughan describes as an "action, adventure, romance, historical thing…set in Scotland" (there is also time travel), is the most anticipated series of the summer, thanks to the hugely popular book series upon which the show is based, written by Diana Gabaldon. I've seen the first six episodes and can tell you it is beautifully shot, expertly crafted (thanks to executive producer Ronald D. Moore of Battlestar Galactica fame), and the chemistry between Sam and his leading lady, Caitriona Balfe, will make you spontaneously burst into tears at some point. Unless you are not a human.
For someone who hadn't read the books, Caitriona and Sam seem absolutely perfect in their roles—as Claire, a nurse from the 1940s who accidentally travels back in time to 1743 and the Scottish highlands, and Jamie, the Scotsman who is clearly destined to win her heart. But Gabaldon herself has said that when she first saw a pic of Sam as he was being considered for casting, she found him "grotesque."
The cast had a good laugh over that one: "Oh yes, it pains me to see him in the morning," Caitriona deadpanned.
"I have hours of prosthetics before I go on," Sam added.
Outlander's casting was controversial among fans, which is commonplace among movies or TV shows that came from books with a devoted following. But Caitriona hasn't allowed herself to be too preoccupied by what people think.
"When people read a book that they love," she told me, "they have such a vivid image of that character. And when you make a TV show, you can't please everybody. And we're not taking anything away from anybody. You can still retain that. But what we're hopefully doing is giving you this new world and this new vision. It's an add-on."
And we are along for the ride.
Outlander premieres Saturday on Starz.