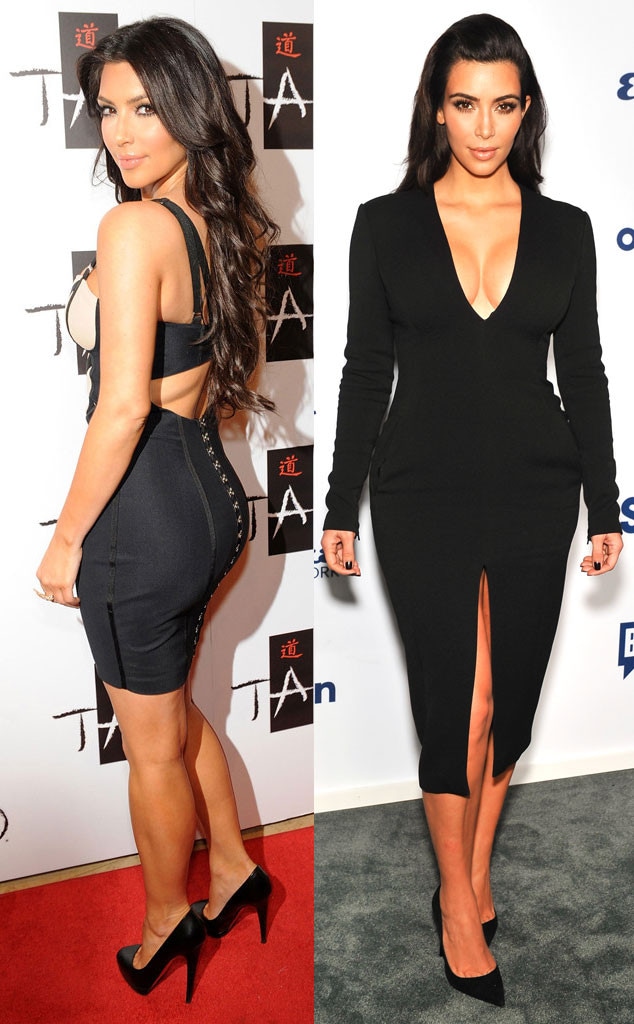 Getty Images
Kim Kardashian's got a new goal. This morning, the E! star shared a throwback red carpet photo of herself and confessed that she wants get her body back to it's 2009 shape. "Ughhhh I am 20 pounds lighter here! This was just 5 years ago!" she wrote, adding. "Ok i'm going back on my grind. I gotta get back here!"
Now, it's not like the new mom has been slacking on her fitness lately. The 33-year-old just lost 50 post-pregnancy pounds in the last year. Plus, the star continues to stay dedicated to hitting the gym "5 times a week."
But this is the second time in recent weeks that Kanye West's wife has posted about returning to her "SkinnyDays." So clearly, she's planning on revving up her health program. With that in mind, here are four ways she's slimmed down in the past.
1. The Atkins Diet: "I believe in diets or I will eat anything," Kim previously told E! News. "When I really need to kick it up, then I'll do low carbs, like Atkins diet. And then I think it's just trying to stay consistent, changing the way you eat. Especially after having a baby, it's really hard. Your body totally changes. And I think you have to work out." The low-carb diet, which she famously turned to after giving birth to North West, focuses on lean proteins and healthy fats, such as avocados and nuts. (Get the full breakdown of her exact meal plan.)
2. Barry's Bootcamp: Kim has been a regular at both L.A.- and NYC-based classes for years now. She usually attends the full body sessions, which focuses on weight and cardio training. The program often means hitting the treadmill at full speed, but luckily, Kim "loves running."
3. Personal Trainers: Kardashian has worked with two famous celeb trainers in recent years, Tracy Anderson and Gunnar Peterson. While Kim turned to Tracy to whip her back into shape post-baby, she is also a longtime client of Gunnar, who is currently working with her sister Khloé Kardashian and brother Rob Kardashian. Perhaps, Kim might join in on one of her siblings' sweat sessions soon.
Watch:
Kim K.'s Instructor Shares Pilates Workout
4. Pilates: When it comes time for toning and shaping her core and butt, Kim hits up Pilates Plus in Studio City, Calif., to spend time on a machine called the Megaformer. The classes take less than an hour but burn up to 500 calories!