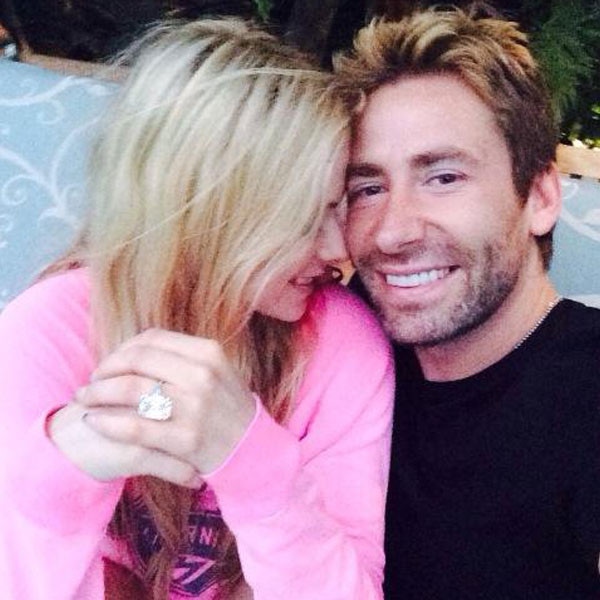 Twitter
When Nickelback frontman Chad Kroeger popped the question to Avril Lavigne in the spring 2013 he presented her with a very impressive 14-carat pear-shaped diamond ring. 
Now, more than a year later and on the couple's first wedding anniversary—as incredible as it is to believe—the rocker has gifted his wife with an even more amazing sparkler. A massive 17-carat diamond ring, to be exact.
The "Smile" singer shared a snapshot of the blinding bling on Twitter today and you may want to don your shades before you sneak a peek.
The photo shows the pair all smiles while her left ring finger clearly displays the new jewel, which basically spans knuckle to knuckle. "I still can't believe my 1 year anniversary gift. 17 carat emerald cut. Wow. I love my hubby," she caption the picture. 
"Emerald diamonds are one of the most classic and elegant cuts," Morgan Shara of MAS Creative told E! News. (MAS didn't do this ring, but was happy to provide an expert opinion.)
"Avril's ring could be anywhere from several hundred thousand [dollars] to in the millions, depending on color and clarity." 
Way to set the bar high, Chad! If this is his gift after year one, we can't even fathom how he'd celebrate a decade of marriage let alone their golden anniversary.
—Additional reporting by Lindsey Caldwell