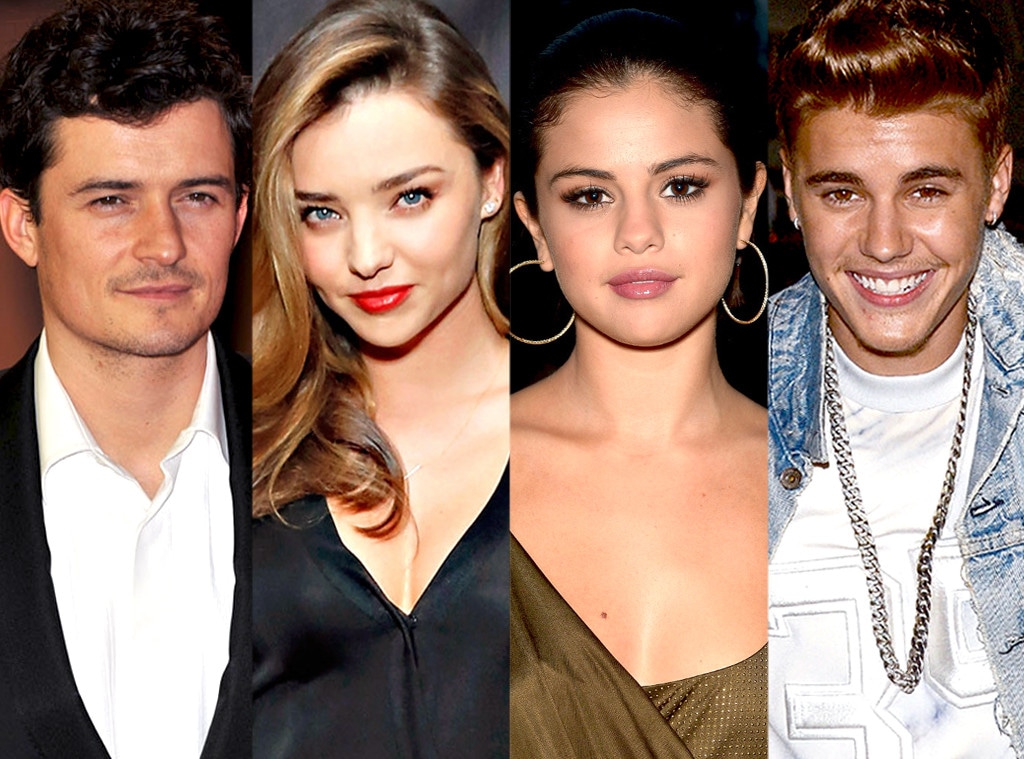 Getty Images
If this isn't one crazy, dramatic love triangle square, then we don't know what is.
After Orlando Bloom and Justin Bieber's scuffle last night at a nightclub in Ibiza, all eyes immediately turned to their famous brunette exes—Miranda Kerr and Selena Gomez—for reactions.
The Biebs' former GF was actually in Los Angeles looking sexy in a crop top at the premiere of her next flick, Behaving Badly, while Kerr was posting topless photos of herself on Instagram.
And while neither of the beautiful ladies in question have addressed the argument so far, it's safe to say they may have had something to do with what went down Tuesday night.
So let's take a look at what may have caused the brawl:
Flashback to 2012, when the rumors between the two couples really began.
The "Beauty and a Beat" singer was the performer at that year's Victoria's Secret show and caught up with the buxom model backstage. The two seemed friendly but sparked reports that there was something more to their natural chemistry together.
Kerr was married to Bloom at the time, and her lawyers released a letter saying that any implications of their client hooking up with the bad boy singer were "false and defamatory."
In October 2013, the model and actor announced that they were ending their three-year marriage.
Then things got even more complicated in early 2014, after Bloom was seen hanging out with Gomez backstage during the We Day California conference.
The two posed for pictures alongside Seth Rogen and Magic Johnson and appeared to be in good spirits.
Less than one month later, the two were spotted hanging out outside of the Forum in Los Angeles after they caught Chelsea Handler's stand-up comedy show.
The 22-year-old and Bloom immediately walked to their cars separately after photographers saw them sitting together on the sidewalk by the venue.
There's no telling exactly what went down between the famous foursome, but there's definitely some history there.
In fact, shortly after his confrontation with Bloom, Bieber posted a modeling pic of Kerr in a bikini with an emoji of a crown as the caption. He deleted it just moments later.
Oh the drama!