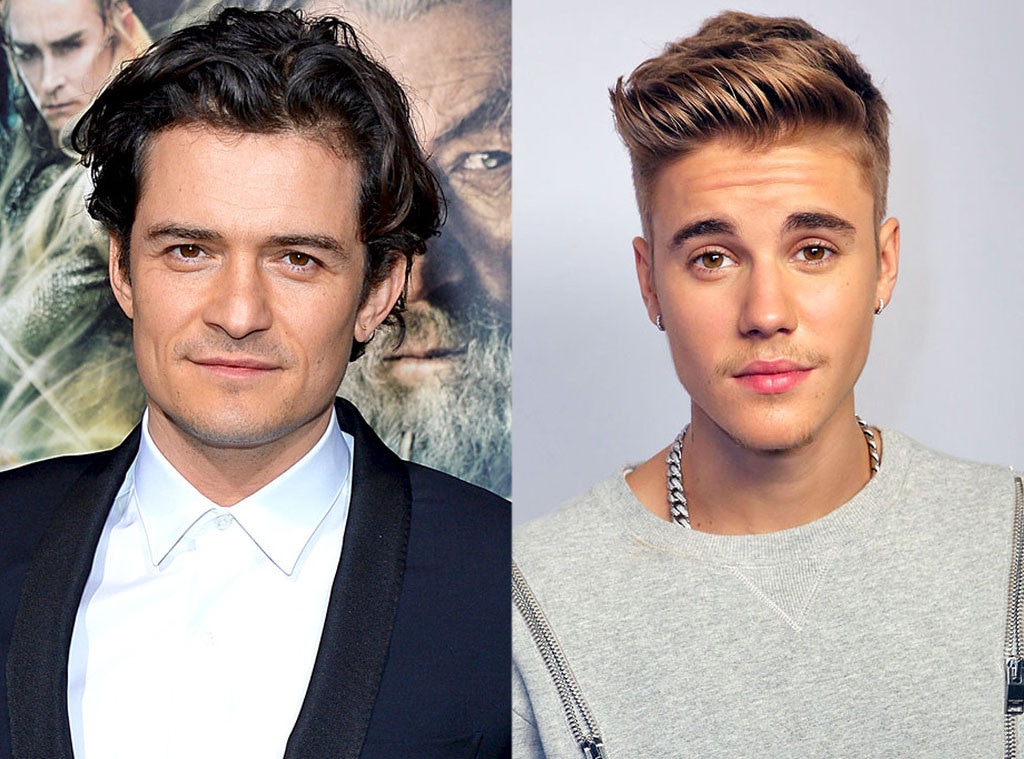 Getty Images
So much for a fun night on the town! Rumored rivals Orlando Bloom and Justin Bieber nearly came to blows at Cipriani in Ibiza, Spain, early Wednesday morning, according to multiple reports. The actor allegedly took a swing at the singer after Bieber made a rude comment about Bloom's former wife, Miranda Kerr.
E! News has reached out to reps for Bloom and Bieber. Cipriani declined to comment on the incident.
Bloom and Bieber sat at separate tables. According to The New York Post's Page Six, the 37-year-old Zulu actor refused to shake the 20-year-old "Baby" singer's hand when Bieber's entourage walked past. A source tells E! News that Bloom was dining with Leonardo Dicaprio and "wouldn't speak to Justin."
As a result, a source told the newspaper, "Bieber said something rude to Orlando, like, 'She was good.'"
A Bieber source denied that he said anything like that, telling Page Six, "Justin didn't even know Orlando was there. But when they saw each other, it was Orlando who was just being an a--hole to Justin."
Similarly, a second source tells E! News that "Justin was being cordial to the guy, but then Orlando took a swing and missed. That's when Justin mouthed off to him—but only after Orlando took the swing."
Either way, a source told Page Six, "They got in each other's faces and there were words. But they were separated by their entourages." Fellow famous partiers included Diddy, Lindsay Lohan and Paris Hilton.
The melee caused quite a stir. When the fight broke out, the first source tells E! News, "Everyone in the restaurant started cheering. People started getting up from their seats to see what was going on."
A patron captured the confrontation on video and posted it to Facebook. It shows Bloom walking away from Bieber and getting separated by a crowd. He then turns around to walk to Bieber and speak to him.
TMZ obtained and published the video early Wednesday morning.
"When they were back together again, Orlando threw a punch at Bieber. He just tried to pop him! The whole place cheered," an insider told Page Six. Meanwhile, a Bieber source said Bloom's punch missed: "There was no contact. He missed. Then there was some 'tough-guy shoving' and they were separated."
Bieber can reportedly be heard yelling at Bloom in the video, shouting, "What's up bitch?"
Bloom and Bieber have been at odds ever since the "Heartbreaker" singer was rumored to be getting flirty with Kerr at a Victoria's Secret fashion show in 2012; Bloom has also befriended Bieber's ex, Selena Gomez. The night of the boys' brouhaha, Kerr attended the Escada Joyful fragrance event in Munich, Germany. Gomez, meanwhile, walked the red carpet at her Behaving Badly film premiere in Hollywood.
After his alleged altercation with Bloom, Bieber Instagrammed a photo of Kerr modeling a peach and gold bikini; he's since deleted the picture. The bad boy later tweeted that he was "keeping it positive."
After dinner, a source tells E! News, "Orlando and Leo went to a nightclub called Bloom."
—Reporting by Sara Kitnick and Marc Malkin
(Originally published on Wed., July 30, 2014, at 7:01 a.m. PDT)