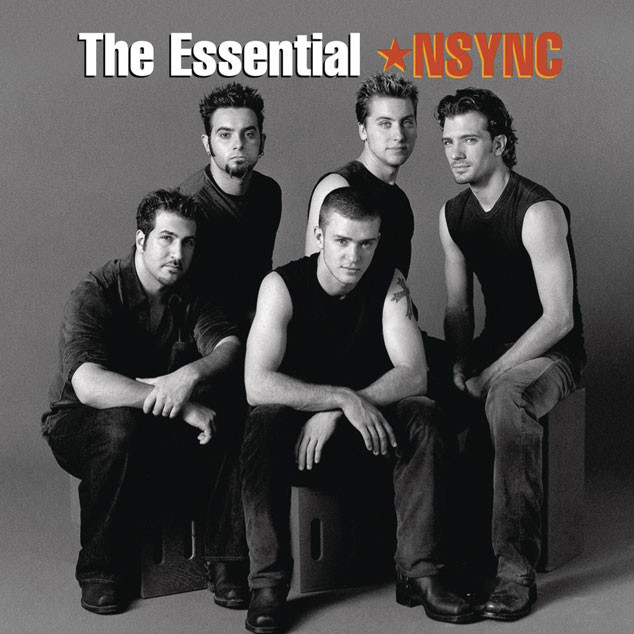 Sony
Could this be one of the greatest surprises of all time?!
It's time to whip out the old binder with all of those 'N Sync magazine clippings (just us?), because Justin Timberlake, Lance Bass, Chris Kirkpatrick, JC Chasez and Joey Fatone are back! Well, kinda.
The boy band's label pulled a Beyoncé on all of us and released a new album from the group today! In fact, it was so top secret and out of left field that the guys themselves didn't know it was happening.
"I love when the record label doesn't even tell you they are releasing a new 'NSYNC album tomorrow ! #TheyCare," Lance tweeted with a photo of the Amazon description for The Essential yesterday. None of the other members have commented on the release.

Although we'd love to say that the group secretly got together and recorded a comeback album for this sneaky project, that's not the case. The Essential is a two-disc compilation of the former boy band's biggest hits throughout their career—which, we'd argue, is still amazing and worth getting excited about.
Regardless of the risky marketing ploy, the secret drop seems to be a success, considering the album is already out of stock on Amazon the day it came out.
So what jams can fans expect from The Essential? Here's the track list:
Disc 1:
1. Here We Go (Radio Cut)
2. I Want You Back (Radio Edit)
3. Tearin' Up My Heart (Original Radio Edit)
4. God Must Have Spent A Little More Time On You (Remix)
5. Thinking Of You (I Drive Myself Crazy)
6. For The Girl Who Has Everything (Radio Mix)
7. Are You Gonna Be There
8. Music Of My Heart - Featuring Gloria Estefan
9. Bye Bye Bye
10. It's Gonna Be Me
11. This I Promise You (Radio Edit)
12. I Thought She Knew
13. I Believe In You - Featuring Joe
14. If I'm Not The One
15. Pop (Radio Version)
16. Girlfriend (The Neptunes Remix) - Featuring Nelly
17. Gone
Disc 2:
1. More Than A Feeling
2. Best Of My Life
3. The Lion Sleeps Tonight
4. Sailing
5. Everything I Own
6. God Must Have Spent A Little More Time On You - Featuring Alabama
7. Somewhere Someday
8. Trashin' The Camp - Featuring Phil Collins
9. If Only In Heaven's Eyes
10. You Don't Have To Be Alone
11. On The Line - Featuring The On The Line All-Stars / Lance Bass / Joey Fatone / Mandy Moore / Christian Burns & True Vibe
12. That Girl (Will Never Be Mine)
13. Falling
14. Feel The Love
15. Selfish
16. See Right Through You
17. Believe In Yourself (TV Version - Sesame Street)