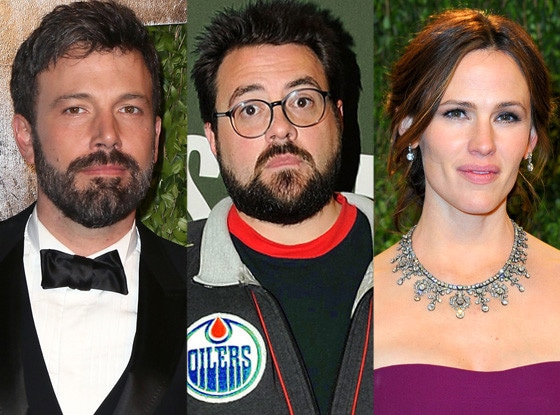 David Livingston/Stephen Lovekin/Pascal Le Segretain/Getty Images
You may not want to hold your breath for another Ben Affleck and Kevin Smith collaboration anytime in the near future…
The director was asked about his relationship with the Caped Crusader during a chat with Yahoo Movies over the weekend, and he spilled the beans that the old friends are no longer close…to say the least.
But before you take him too seriously (it is Kevin Smith after all), his rep tells E! News that his interview was "simply a joke and taken completely out of context."
Smith playfully told the reporter, "We're not f--king tight. I have not been [close with him] in decades. That's old Ben. He's got a wife [Jennifer Garner] that don't care for me at all [laughs]."
He continued, "And plus, honestly, he probably don't care for me at all anymore.
"He's a triple-A-list movie star and s--t like that. If he's Jimmy Carter, I'm Billy Carter, to put it in '70s terms. And I'm not even related and s--t."
This isn't the first time that the famous couple's past friendships have been a topic of conversation.
During a guest appearance on Watch What Happens Live!, Andy Cohen asked Mark Ruffalo if he still kept in touch with his 13 Going on 30 co-star, to which he said no, adding, "We had a great time together, and I think we would, but then Ben came on the scene. And that was the end of that."
"I heard he doesn't allow her to have male friends?" Cohen asked, adding, "I made that up."
Ruffalo shrugged and chose to plead the fifth.