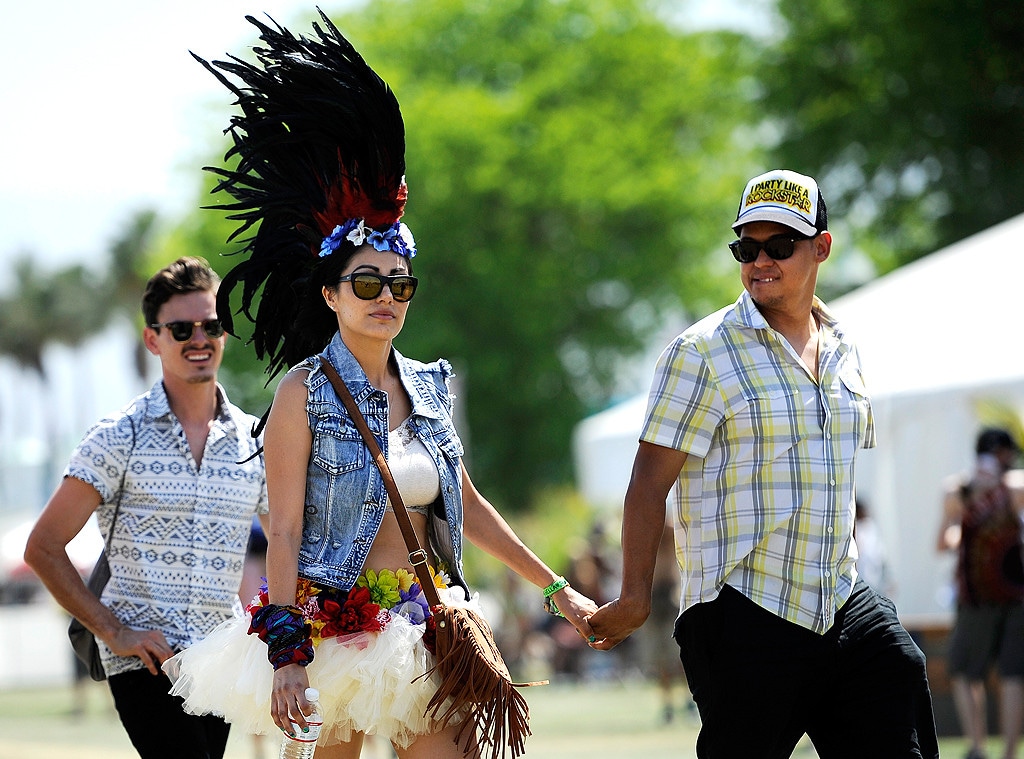 Chris Pizzello/Invision/AP
We've all seen the pics. Concertgoers donning high-waisted denim shorts and bro tanks always seeming to piss people off and start some controversy. Recently it's because they're wearing Native American headdresses, war paint and feathers.
Finally, someone has intervened. Bass Coast Festival posted on their Facebook page they are banning all "feathered war bonnets." The event is taking place on "indigenous land" and the festival has made this decision out of respect.
Why would a music festival ban people's self-expression? That's the question being asked by many on Facebook.
A Tribe Called Red, a Canadian First Nations DJ group, has been outspoken about supporting Bass Coast Festival's new guidelines, especially since the group will be performing there. Ian Campeau (also known as Deejay NDN of the crew) says he's seen an increase in concertgoers wearing First Nations headdresses, especially by people who clearly have no ties to the heritage.
"I have yet to speak to someone who is First Nation who wears fake headdresses and war paint to EDM concerts. It's 'redface.' Just like 'blackface,'" Campeau told Huffington Post Canada.
Ollie Millington/WireImage
Native American fashion influences have given significant rise to insensitive concert apparel. War bonnets are a prominent fashion staple at music festivals like Coachella and Electric Daisy Carnival. Recently, many celebs including Vanessa Hudgens, Harry Styles and Pharrell Williams have come under fire for wearing the styles.
Eliza Doolittle donned a headdress along with tribal-inspired clothing at Coachella in 2011.
Tim Mosenfelder/WireImage
Jared Leto of 30 Seconds to Mars made the decison to accessorize with a war bonnet at the Soundwave Music Festival in 2011.
Most commenters support Bass Coast's decision and some were even grateful the festival was recognizing their culture and heritage.
Blogger Adrienne K. posted on Native Appropriations and summed it all up pretty well: "You are pretending to be a race that you are not, and are drawing upon stereotypes to do so." Think twice about your next festival outfit, folks.
If you're still confused, MTV has an awesome write-up on what it all means with plenty of reasoning from the Native American community.