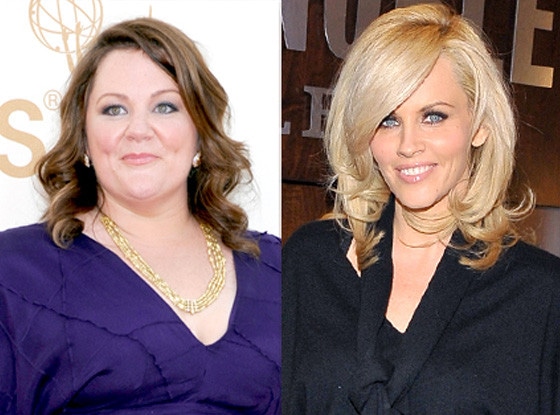 AP Photo/Chris Pizzello; Dr. Billy Ingram/WireImage
Once again, Jenny McCarthy is jumping to cousin Melissa McCarthy's defense, except this time around she's found herself on the receiving end of criticism.
After a report surfaced on Radar Online claiming The View co-host once took a jab at the Bridesmaids beauty's weight, the blond bombshell has fired back at the rumors and insists there's no truth to the allegations.
"There is a crazy story going around that I once told my cousin, Melissa, that she would have to lose weight in order to get into show business. Nothing could be further from the truth," the bride-to-be told People.
The report claims that Jenny told Melissa she would have to shed some pounds in order to find success in Tinseltown while the curvaceous stunner was serving as a production assistant on her cousin's short-lived series Jenny.
"When she was starting out, I was fortunate enough to be in a position to get her a job on a show I was doing, to learn the ropes and get some experience on a TV set in front of the camera and behind the scenes," the former Playboy model explained.
But while Jenny may have helped pave the way for her cousin's career, she insists Melissa's success is all thanks to her own perseverance and talent.
"She has accomplished everything she has accomplished through hard work and her extraordinary talent, and I've only ever encouraged and supported and wished her the very best," the author said.
McCarthy also addressed the reports that her cousin was snubbed from her upcoming wedding to Donnie Wahlberg and insisted there's no hard feelings between the two, despite the fact that Melissa did not receive an invitation.
"'They also say that I've 'banned' Melissa from my upcoming wedding, which is also ridiculous," she said. "Donnie and I are planning a very intimate ceremony that will involve a very small group of our closest friends and that's it—not a huge production with hundreds of friends and extended families."
She added: "It's hurtful that people make up stories that pit not just families, but specifically women, against each other."
Meanwhile, the soon-to-be former View co-host has been busy working on her new Series XM radio show, "Dirty Sexy Funny," and recently shared a funny story about her 12-year-old son Evan.
Calling her little boy a "rule follower," McCarthy admitted that Evan's affinity for abiding by the law has nearly gotten his famous mama into trouble.
"We're driving in the car and of course I text and drive," she shamelessly admitted. "He called the police on me and said, 'My mom is texting and driving right now.' True story."
And surprisingly enough, that's not the first time Evan has called the cops on his mom. He previously phoned 911 after Jenny snuck outside the house to smoke a cigarette and when he couldn't find her, he became nervous.
"He called 911 and said, 'I am alone in the house. My mom abandoned me,'" she recalled. "I go back in the house and it's 911 and they're like, 'Your child just called. Is there an emergency?' I'm like, 'What?! No! Everything is fine.'"