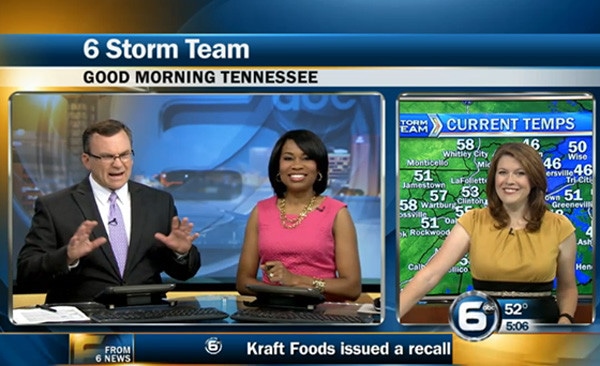 Facebook
Celebs are prone to criticism and local celebs are no different. If your local meteorologist displayed her hourglass shape with formfitting yet professional attire, she deserves to be called out, right? Because how dare she display her figure on television! That is for your husband's eyes only when you are slaving away in the kitchen.
Wrong.
However, meteorologist Julya Johnson has basically been told just that. A concerned viewer recently sent her a handwritten letter, explaining why Johnson receives "no compliments" on her weather coverage. Hint: it's because of her breasts.
The letter reads:
"Hello Julia,
You are a great meterologist! I am at elderly person who depends on WATE 6 News for my daily news and weather – my daily beginnings – I watch this news from 2 a.m. – thru the day. I observed every one gets great compliments about their job, How they give great forecast. There are not any compliments about you! Why? Please change your appearance!! Those high Bodice dresses are Not (for) you. Do you Have any dress or dresses that don't fit snugly under your (Bust)? Please! You are Beautiful – But you need a change. Please don't feel like I'm putting you down. Allow me to apologize. This letter is meant for the beautiful lady you are. Go forward (Be happy!)
Sincerely,
A Wate T.V. Friend"
Can we just go back to the part where this concerned elder calls Johnson a "great meterologist"? Because that is her job (well, actually she's a meteorologist) and that should be the only thing upon which she is judged. Johnson would agree, since she posted to her Facebook page: 
"I like my dresses. I feel good about my appearance. I am always covered, dressed modestly and professionally. Yet, she mentions that I am a great meteorologist! And she also says I get "no compliments"? Does the fact that I bring an accurate forecast mean nothing? I was a straight A student. If I had known being on People's list of "best dressed" mattered more than an accurate forecast, I could've saved a ton of money on that meteorology degree."
Johnson has been working for WATE covering weather for 12 years, and Facebook is definitely supporting the seasoned vet. We're justifying this letter by hoping maybe this person is just from a "different time" like old people enjoy to point out. Or maybe he/she is a little senile. From what we've seen, Johnson's work attire is far from revealing.
Either way, Ms. Johnson, that was a boss bitch move. We applaud you.