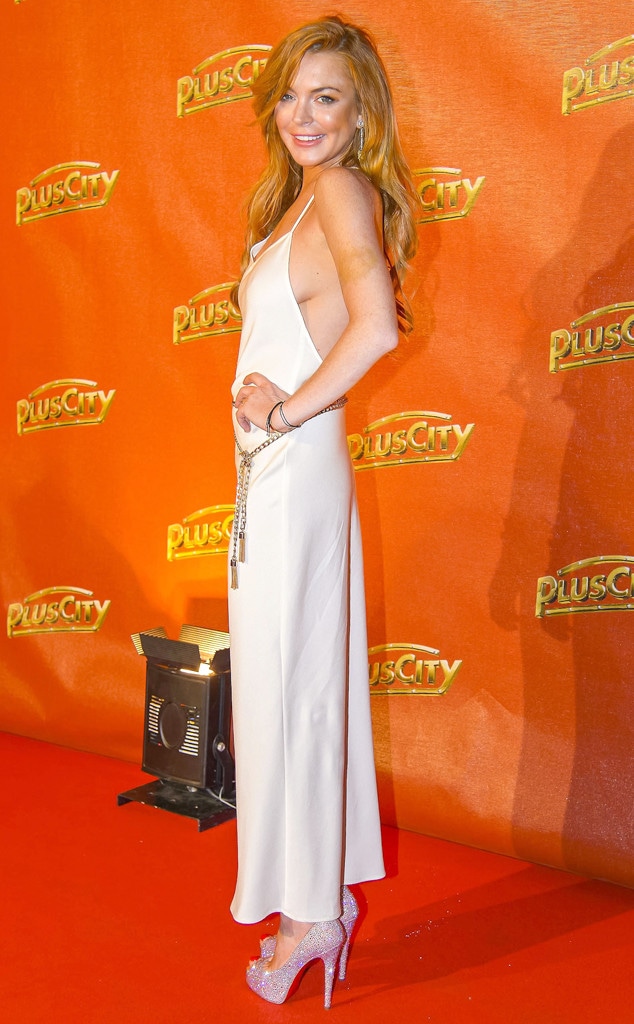 FameFlynet
We never thought we'd live to see the day...
Not only are we writing about a side boob showcaser that is as glamorous as it is sexy but Lindsay Lohan is wearing it! The fat lady is singing as Hell freezes over and pigs fly over her head.
Kudos to the Lindsay star for managing to go where no celebrity has gone before. Yes, the slinky slip dress has more va-va-voom than a classic Hollywood gown, but the fit over the tata region manages to be tasteful thanks to some key elements.
Monika Fellner/Getty Images
1. The color. In red or even black this simple design would make the troubled child star look more like a vixen and less than an edgy fashion lover. White keeps it pure and simple.

2. The cut. The neckline could be lower and that side peep could show even more but the design fits like a glove without revealing more than necessary for the steamy effect.

3. The rest of the look. Yes those sparkle shoes are a bit much, but even they don't feel over the top thanks to a gorgeous blowout, chic gold chain belt and fun drop earrings. It's understated, which is the definition of elegant.
Lindsay, you just earned major points in our book. Try not to blow it with some hot mess look in the next 24 hours, okay?
Tune-in to an all-new Fashion Police this Friday at 9/8c on E!