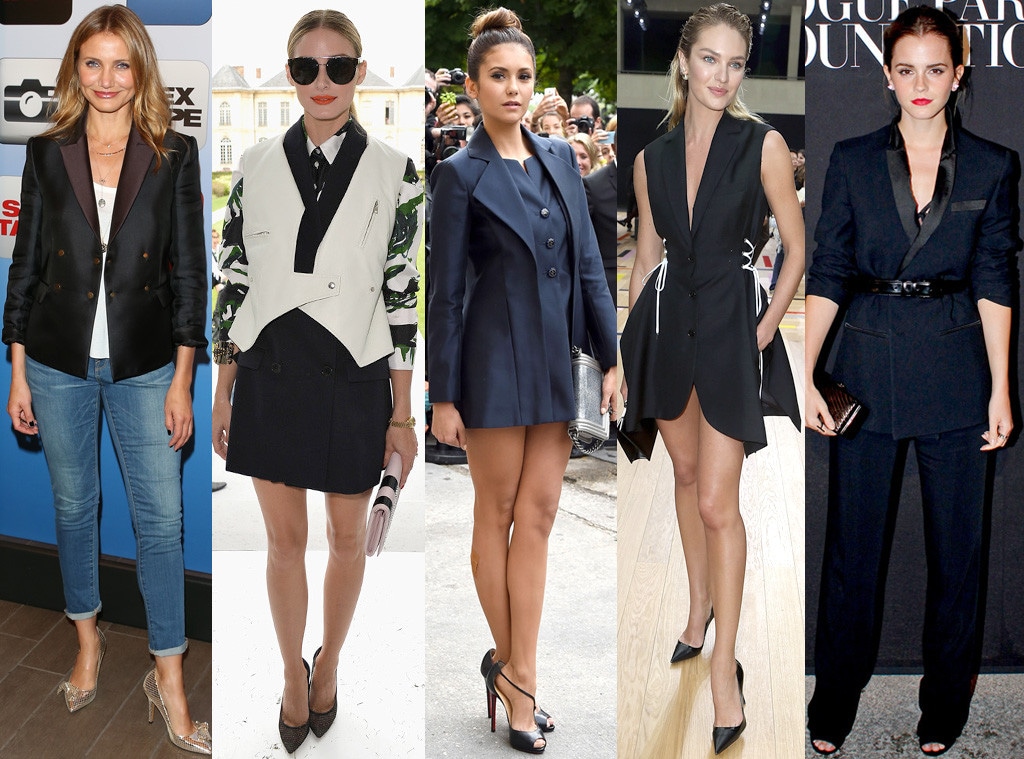 Getty Images
See ya, summer crop tops and pencil skirts! There's a new trend revving up for fall fashion: the upgraded blazer.
Admittedly, the trend is something of a blazer-tuxedo hybrid. It's the polished look of your boyfriend's tux blended with the rigid structure of a blazer. We've even seen this trend in the form of luxe vests and debonair mini dresses. Menswear-inspired looks have been huge on the runways, so we're not surprised every celeb under the sun is rocking this style. 
Cameron Diaz sported a vanilla version of the trend, wearing a double breasted The Row blazer over light-wash Frame Denim jeans. The suave jacket over jeans is the perfect complement to Cameron's tomboy style, and supports our blazer-meets-tuxedo hybrid style theory to a tee.
Olivia Palermo skipped the sleeves and opted for a sleek white vest version at Paris Haute Couture Fashion Week. Also at the upscale extravaganza was Nina Dobrev, blending the best of masculinity and elegance into a crisp tuxedo-inspired mini at the Chanel show.
Rosie Huntington-Whiteley worked the trend into a mini dress as well, featuring a flirty scalloped hemline, plunging neck and white lace-up side strings. Perhaps the most successful example of the blazer-tuxedo phenomenon is Emma Roberts, wearing an oversize belted variation to the Vogue Foundation Gala during Paris Haute Couture Fashion Week.
Now the question is, which celeb will rock this trend next? Are you into the upgraded blazer trend?