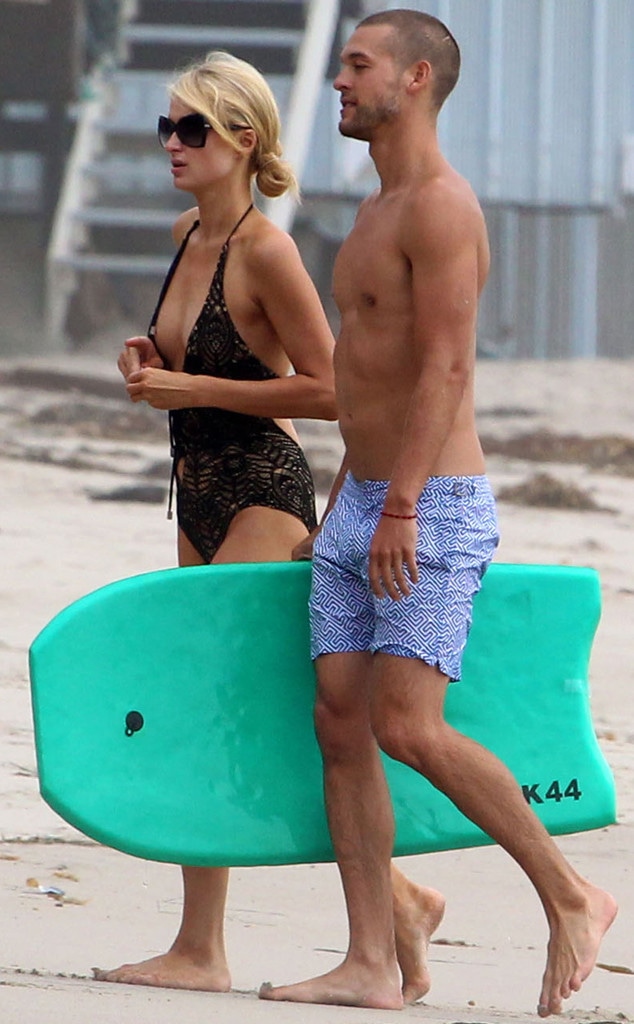 Mike/FAMEFLYNET PICTURES
Paris Hilton has nabbed herself a hot new man.
Just two days after the hotel heiress was introduced to Ralph Lauren model Josh Upshaw, the two were spotted making out on Saturday at the beach in Malibu.
Hilton, 33, and Upshaw, 28, met on Thursday night during DT Model Management's second anniversary party at Pump restaurant in West Hollywood, according to a source.
"He's so nice and sweet," the source said. "He's also a little older so that's good for Paris."
So what's happened to Hilton's longtime boyfriend, 22-year-old model River Viiperi?
"That ended a while ago," a source said.
In addition to Ralph Lauren, Upshaw has modeled for Abercrombie & Fitch, Tom Tailor, Mr. Porter, FitFlop.com, and Esquire Spain.
Just last week, Hilton debuted her new Carl's Jr. commercial, nine years after her first ad for the fast food chain.
"Paris is happy and busy working," the source said.
Another source insists Hilton and Viiperi weren't done yet. However, things may have gone completely south earlier today when Viiperi saw the pics of her kissing Mr. Upshaw, the source said.
Hilton posted a photo of herself on Instagram this morning sitting in a plane with the caption, "Bye LA! Taking off to Ibiza!!"
No word if Josh will be meeting her there.