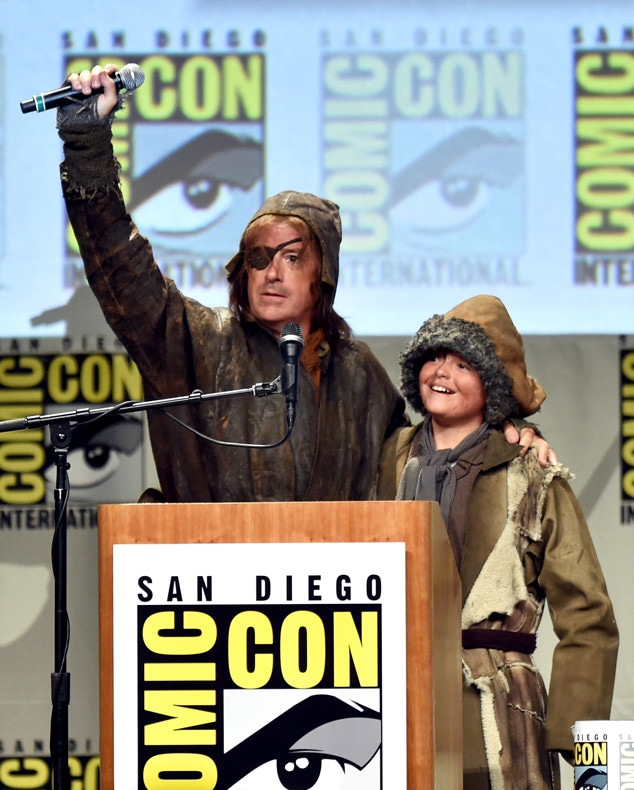 Kevin Winter/Getty Images
So now we're really sure Stephen Colbert is a fan of The Hobbit.
The late-night host delivered quite the surprise Saturday afternoon when he showed up at San Diego's Comic-Con to host The Hobbit panel. Chris Hardwick was scheduled to moderate but was more than happy to pass on the hosting duties to his friend.
While many fans were ecstatic to see Colbert, others were simply shocked to see him dressed as a lake-town spy.
"I can't believe I get to do this," Colbert said in a video that aired moments before he took to the stage with his son.
The comedian has been a vocal fan of J.R.R. Tolkien's work for years. In fact, during his speech, Colbert referenced his hopes and fears about first learning of the Lord of The Rings movies.
"Rumor came to us that director Peter Jackson would be making an adaptation of the trilogy, and at the time many of us knew him for adaption of Heavenly Creatures," Colbert joked. "The only problem as I saw it, with a total running time of 11 and a half hours, they were too damn short."
Colbert made a cameo appearance in The Hobbit: The Desolation of Smaug back in 2013.