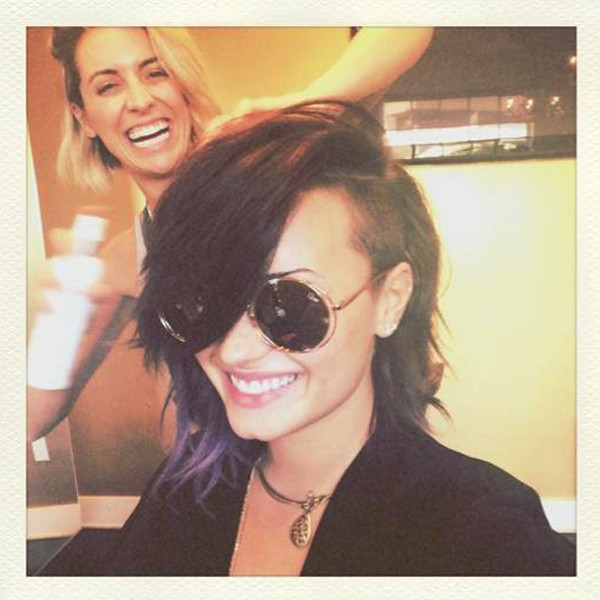 Twitter
Demi Lovato is no stranger to changing up her hair, but instead of reaching for a bottle of dye this time around, she went for the scissors.
The singer debuted an edgy new bob haircut with a photo on Twitter, writing, "Just went shorter!!!! only the best from @RiawnaCapri at @NineZeroOne." And now E! News has all the exclusive details on the new 'do and why Lovato opted for a last-minute chop before going on tour.
"It was definitely not planned," Riawna Capri, co-owner of Nine Zero One Salon, tells E! News exclusively. "[Demi's] flying out today, and wanted it before she left."
And although the impromptu haircut was competely out of left field, Demi did have another celeb's tresses in mind when it came to figuring out what she wanted to do. "Demi loved the texture of Julianne Hough's old haircut. She wanted to recreate that texture on her," Capri says.
"Demi and I collaborated together about the cut. I wanted to give her something no one else has." That's when "The Demi" was born.
"It's short on one side, and longer on the other side. One side is about 3 inches longer than the other side," Capri explains. "The short side touches her shoulder, and the long side goes just past her shoulders. It's that perfectly disheveled hair."
It turns out the assymetrical haircut has become an increasingly popular trend, so Capri felt like "I was painting a picture. I've done so many 'Julianne' haircuts, so to recreate that texture, I feel like I can do it in my sleep."
As for the end result? Capri was left with a very satisfied customer. "She was so pumped, she loved it," she tells us of Demi's reaction.
Well, no wonder. The cut looks great!